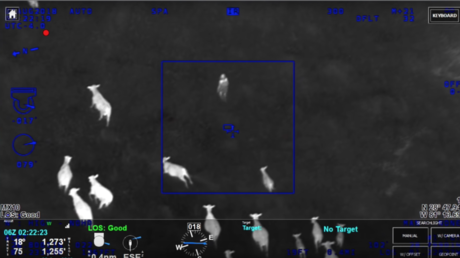 Surprised by an unexpected visitor to their pasture, a herd of Floridian cows managed to corner the intruder who was trying to evade police during a chase, and drove her right into the officers' hands.
Taking the bull by the horns required a team effort by the bovine pack that witnessed a woman crash their grazing time on Tuesday afternoon just outside of Sanford. Cornering their visitor, they hoofed around the intruder until police intervened to arrest the woman, wanted for carjacking.
The cows' instinct to protect their turf helped the law enforcement officers capture Jennifer Kaufman, who was relentlessly pursued by a police helicopter in a stolen Subaru SUV before she and her accomplice crashed the vehicle next to the pasture.
In a video of the bizarre chase, released by the Seminole County Sheriff's Office, Kaufman can be seen running through a field with dozens of cows in pursuit. "If you see the large group of cows, they're literally following her and chasing her," an officer said in the video.
Hoof do you think you are? Cop chased away by freedom-seeking Scottish cow (VIDEO)
While law enforcement had to rely on cows to find Kaufman, her accomplice Jamie Young, 46, was detained with the help of a Sanford police dog. Both suspects were charged with trespassing, petty theft, drug possession and resisting arrest.
Like this story? Share it with a friend!
Via RT. This piece was reprinted by RINF Alternative News with permission or license.