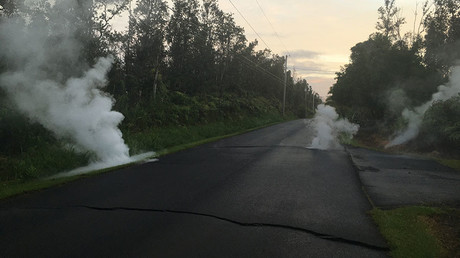 Terrifying, rumbling, ripping through houses; steaming cracks in the ground, and panicking locals – the powerful earthquake with aftershocks that hit the Big Island of Hawaii has been captured on videos.
Chilling footage posted on YouTube shows glassware and crockery breaking in the home of a local woman as it's violently shaken by the earthquake.
Another video posted by @Allieb1792 on Twitter shows how items in her kitchen suddenly start trembling, while a picture hanging on the wall began moving around.
The quake centered near the Leilani Estates area in the east of the island, according to the US Geological Survey. The tremor was the most powerful of a series of earthquakes that have been rocking Hawaii in recent days.
Massive jolts sent many local residents into panic mode. "Last night, we started having them [tremors]… about five a minute. It was like that just about all night long," Chris Burmeister, who lives in Leilani Estates, told Hawaii News Now TV channel. "It'll rumble for a little bit. Rumble for a little bit. And then every now and then, you'll get just a heavy jolt." 
Al sureste de la Isla Grande de Hawái, en el sector conocido como Leilani Estates, algunas calles comenzaron a fracturarse producto de las deformaciones en superficie causadas por la migración del magma.
(…) pic.twitter.com/K9Id66uAYX

— SkyAlert (@SkyAlertMx) May 4, 2018
Bobbie Stivers-Apiki was at a hotel in the town of Hilo when he felt the tremors. "Things started shaking side to side," he told Honolulu Star-Advertiser newspaper. "That was huge, the longest I ever felt." 
The quake struck while hotel bellman Alan Shinkai was in the elevator. "I wanted to reach the ground as fast as possible," he told the paper.
In the meantime, the volcanic eruption, which began on the island on Thursday, is ongoing in Leilani Subdivision, in the Puna District.
"When we drove on that road, we heard a noise in the forest and it was like a little thump," local resident Ikaika Marzo told Hawaii News Now. "Next thing, like three to five seconds after that, we smelled sulfur. After that, that's when there was tons of sulfur. Then we saw some lava popping out."
The tremor is also the largest recorded since the 7.1-magnitude earthquake that struck Hawaii in 1975, which generated a massive tsunami, the USGS said. The region has experienced at least nine powerful earthquakes in the past century.
Think your friends would be interested? Share this story!
Via RT. This piece was reprinted by RINF Alternative News with permission or license.