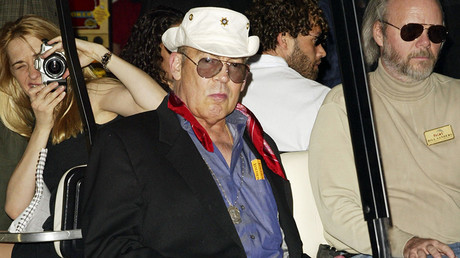 The widow of legendary Gonzo journalist Hunter S. Thompson is planning to clone his personal marijuana stash so it can be sold to the masses.
"I have found a legal method to extract DNA from Hunter's personal marijuana and hashish that I saved for 12-15 years," Anita Thompson wrote in a Facebook post Sunday. "I am in the process of making the strains available to those who would like to enjoy the authentic Gonzo strains in legal states."
Thompson married Hunter in 2003, two years before his suicide.
In June, she obtained the rights to Thompson's likeness, ownership of the author's Owl Farm home, and control of the "Gonzo" logo. A trust has rights to his book sales.
READ MORE: FBI admits to destroying their file on journalist Hunter S. Thompson

Thompson said cannabis growers had often approached her often to grow their own strain and put Hunter's name on their brand.
"If I put Hunter's name on somebody else's strain I can never go back and say, 'No, this is the authentic one,'" she explained to the Aspen Times.
Thompson saved six different strains of cannabis that Hunter smoked, and is working with a cannabis company to grow those strains, or hybrids of them, to sell to the public.
Thompson will use the proceeds from sales to support turning Owl Farm, where she lived with Hunter, into a museum and the compound into a writers' retreat.
"I'm looking forward to being a drug lord," she said.
Later in her post on Facebook she said the phrase "drug lord is silly as it doesn't match my personality, I am looking forward to making the authentic strains available in legal states to support the Farm and the scholarships."
READ MORE: The crazy story of how Hunter S. Thompson stole Hemingway's antlers 

Thompson had previously established two scholarships in Hunter's name, one for journalism students at the University of Kentucky and another for military veterans to attend Columbia University.
Colorado is one of eight US states, plus the District of Columbia, where adult recreational use of marijuana has been legalized in some form.
Via RT. This piece was reprinted by RINF Alternative News with permission or license.