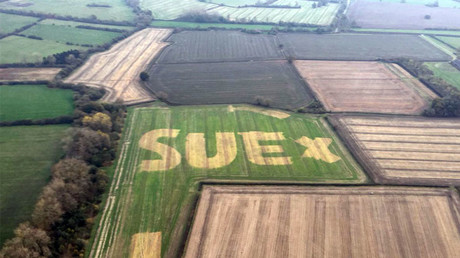 The National Police Air Service (NPAS) sought the public's help in identifying the mysterious 'Sue' whose name was etched on a farmer's field in Testworth, near Thame, on Thursday.
NPAS Benson spotted the colossal love note at roughly 8:50am local time Thursday, reports The Oxford Mail. Initial efforts at tracking "Sue" down reached a dead end, so the service took to Twitter to ask for help. The NPAS consists of civilian pilots with either military or commercial helicopter flight experience.
Naturally, speculation was rife that it was a publicity stunt or an oddly specific message from an alien race. However, relief came just hours after the NPAS tweeted, when a local Oxfordshire Helicopter charter company revealed it was a simple display of affection from a husband, one of their pilots, to his wife.
The 'x,' which typically signifies a kiss, threw some amateur detectives off, leading them to believe the Suex underwater scooter company was behind the message; An odd choice for a marketing campaign, most would agree.
Apart from the social media buzz and the police involvement, perhaps the most impressive outcome of this love note was that it was, allegedly, visible from space.
Via RT. This piece was reprinted by RINF Alternative News with permission or license.