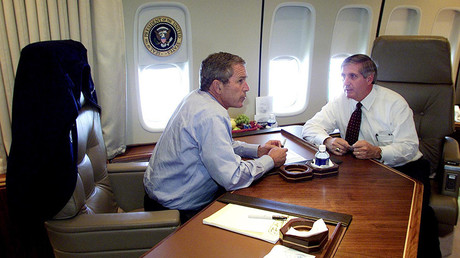 George W Bush's reaction to the 9/11 attacks has been revealed by his press secretary at the time, Ari Fleischer, who released detailed notes he took in the immediate aftermath on board Air Force One.
Fleischer wrote six pages during the tense flight capturing the president's shock and anger. Until now, he kept the valuable snapshot of history in a bank vault, releasing snippets of what happened on social media during previous September 11 anniversaries.
At that moment, we all thought it must have been an accident. The Pres.told Condi to make sure NYC received all the help the City needed.

— Ari Fleischer (@AriFleischer) September 11, 2015
As famously and shockingly laid out in the Michael Moore documentary "Fahrenheit 9/11," Bush was informed of the initial attack during a school visit in Florida, but kept reading the children's story about a pet goat before he was eventually escorted to Air Force One.
The flying situation room circled empty American airspace for several hours.
Speaking to vice president Dick Cheney on the phone, Fleischer noted that Bush stated, "We're at war."
Turning to those on board, Bush said, "That's what we're paid for boys. We're going to take care of this, when we find out who did this they are not going to like me as president."
"We're going to get the bastards," he told Cheney.
Tension was high in the plane that day. There was uncertainty around what had happened and who was behind the attacks. Bush was concerned for his family. There was the risk that Air Force One could be a target and that more attacks were coming. An Air Force officer stood outside the cockpit in case there was an attacker on board.
Fleischer's notes refer to someone on the ground saying "Angel is next." Angel was the codename for Air Force One.
Bush was eager to return to Washington, which the Secret Service argued against.
"I want to get home as soon as possible," he said. "I don't want whoever this is holding me outside Washington."
Once they heard that a plane struck the Pentagon, going to Washington was off the table.
"He fought with us tooth and nail all day to go back to Washington," Secret Service agent Dave Wilkinson told Politico. "We basically refused to take him back. The way we look at is that by federal law, the Secret Service has to protect the president. The wishes of that person that day are secondary to what the law expects of us. Theoretically it's not his call, it's our call."
Fighter jets were deployed to protect Air Force One.
"I can't wait to find out who did it," Bush said. "It's going to take a while and we're not going to have a little slap on the wrist crap."
Ever a politician, Bush was concerned with the optics, stressing the importance of appearing calm.
"It's important for people to see the government is functioning, because the TV shows our nation has been blasted and bombed," he said.
When Bush asked about his dog, Barney, his chief of staff Andy Card replied, "He's nipping at the heels of Osama bin Laden now."
While it wasn't clear at this stage who had carried out the attack, CIA's Mike Morell told Bush his guess was Osama bin Laden.
The plane landed in Barksdale Air Force Base in Shreveport, Louisiana, where Bush made a statement to the people.
After refueling, the plane set off again, stopping in Omaha, Nebraska before finally arriving at the White House at 7pm.
Nine days after the attacks, Bush publicly declared the war America is still fighting today: "Our war on terror begins with al Qaeda, but it does not end there. It will not end until every terrorist group of global reach has been found, stopped and defeated."
Fleischer told Reuters that he recognized the importance of documenting Bush's comments that day.
"I always took notes. It's how you do your job," he said. "But on September 11, it was instantly clear how much more important it was to have a record of what the president did and said. I basically glued myself to his side almost the entire day and remained in his cabin on Air Force One to listen and take notes."
Via RT. This piece was reprinted by RINF Alternative News with permission or license.