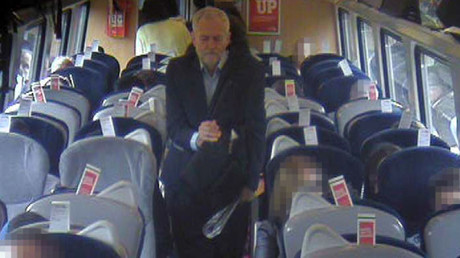 George Galloway has defended Jeremy Corbyn from an "absurd" scandal in which the Labour leader was accused of fabricating claims that he couldn't find a free seat on a busy Virgin train.
The former Labour MP told RT that he had heard the true story "from the horse's mouth," and that Corbyn was telling the truth when he said the train was "ram-packed."
He accused Virgin boss Richard Branson of breaking data protection laws by releasing CCTV images of the train showing passengers' faces and claimed the multi-billionaire is worried about Corbyn's plans to re-nationalize the railways.
Corbyn appeared in a video sitting on the floor of a Newcastle-bound Virgin train last week because, as was claimed at the time, he could not find a free seat.
"This is a problem that many passengers face every day; commuters and long-distance travellers. Today this train is completely ram-packed," he said in the video.
Virgin Trains disputed the Labour leader's account on Tuesday, when it released CCTV images that the rail operator claims refute Corbyn's account of the journey.
Speaking to RT on Tuesday evening, Galloway claimed that the mainstream media's reaction to the incident shows how "absurd" British politics have become.
"It is absurd you know. A multi-billionaire privatizing rail operator anxious about Jeremy Corbyn's plans to renationalize the railways, ploughs through his CCTV camera footage – breaking the data protection act, by the way, publishing the pictures of the people on the train – and Corbyn's opponents leap on it. Especially the Sky and BBC duopoly.
"It just shows how absurd August can be and how absurd British politics is," he said.
Galloway claimed to have heard the "truth" behind the incident from the "horse's mouth."
"Jeremy Corbyn could not find two seats together unreserved on the entire train. And he is the leader of the opposition; he can't sit on his own on a train. He also… one of the people with him was his wife, so you're not going to leave your wife standing and you take the seat," he said.
"So he couldn't find a seat, he sat down on the floor, somebody filmed it, people were queuing up to take selfies with him on it. He was not feeling well, he had a temperature of 102, headed north, and he was asked by the staff if he would take a first class seat.
"Now, I would have been in the first class seat from the beginning, but Corbyn's not a first class seat kind of guy. He's honest, unspun, unvarnished, he declined. And then they moved another family into the first class free, gratis, and gave Jeremy and his wife their seat. That is the end of the story."
Via RT. This piece was reprinted by RINF Alternative News with permission or license.