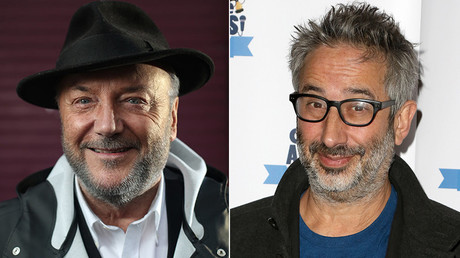 Jeremy Corbyn is set to be dragged into a defamation case against former colleague George Galloway after a row broke out on Twitter between the expelled Labour politician, comedian David Baddiel and head of Momentum Jon Lansman.
Baddiel, who is Jewish, accused Galloway – a former MP and ex-colleague of Corbyn – of being anti-Semitic, in a row which erupted on social media.
The fight began on Twitter when Galloway accused Baddiel of being an "Israel fanatic," after the comedian retweeted Labour MP Stella Creasy's post calling for a mass protest at the upcoming visit of US President Donald Trump to the UK.
Galloway used Creasy's voting record over military action in the Middle East against her – but also attacked Baddiel, writing: "There will be no supporter of the Palestinian people marching behind vile Israel-fanatic "comedian" David Baddiel. There will be no opponent of imperialist wars marching behind Stella Creasy."
The ex-MP later deleted the Tweet, but not before a Twitter spat had broken out. 
I was wrong to tweet that David Badiel was an "Israel-fanatic", he is not and I have deleted it. I should have said that David Badiel routinely slanders Israel-critics like me as "anti-Semites".

— George Galloway (@georgegalloway) January 30, 2018
The comedian insisted Galloway's only reason for calling him an "Israel-fanatic" would be because he is Jewish.
Ex-MP for Labour and the Respect party, Galloway made the accusations despite Baddiel previously saying he is neutral on the Middle East and once making the claim: "I don't give a f*** about f***ing Israel."
The founder of the Corbyn supporting grass-roots movement Momentum, Jon Lansman, jumped to Baddiel's defence.
Galloway threatened them both with legal action.
Members of the public rounded on the comedian in support of Galloway.
Since I've always made it entirely clear that my attitude to that country is entirely meh, I think we can only conclude that by "Israel-fanatic" George just means Jew. Vile Jew. And that therefore he is an anti-Semite. Now let him come at me with his stupid fucking lawyers. pic.twitter.com/zJ1rLol3qG

— David Baddiel (@Baddiel) January 29, 2018
Baddiel refused to back down, responding to some of those that supported Galloway's position. 
You said ppl who use term "Zionist cabal" are "close to anti-semitism" (2:40 here: https://t.co/ppXw96in5v). Anti-Zionism is never anti-semitism. If you don't care about Israel, why do you repeat their propaganda equating anti-Zionism and anti-semitism? @georgegalloway is right.

— Haunted Toilet 🇰🇵 (@Haunted_Toilet) January 29, 2018
Simultaneously, a petition to have Galloway reinstated in the Labour party after his 2003 expulsion over comments on Iraq is gathering steam.
Several thousand signatures were gathered in a matter of weeks as Galloway's supporters claimed former-leader Tony Blair was wrong to oust him.
Like this story? Share it with a friend!
Via RT. This piece was reprinted by RINF Alternative News with permission or license.