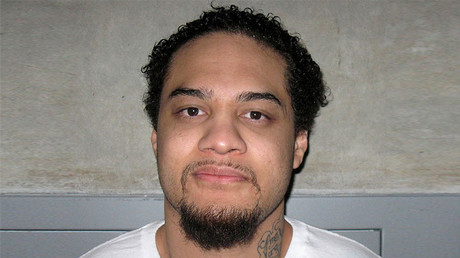 Footage of a gang member's attempted attack on a witness during a 2014 trial has been released by authorities. It reveals how a US marshal fatally shot the defendant as he rushed across the courtroom armed with a pen.
Siale Angilau was in a Salt Lake City court on April 22, 2014, facing gang-related charges when he suddenly launched a violent attack using a pen on a man testifying against him. The 25-year-old was fatally struck with four bullets fired by a US marshall as he launched himself into the witness box.
READ MORE: Five injured after wild brawl in America's largest jail (VIDEO)
The newly-released video comes after an unlawful death case brought by Angilau's family was thrown out by a Utah judge on Friday, reports Deseret News. Angilau, a member of the Tongan Crips gang, had effectively "escaped custodial control" prior to being shot by a marshall referred to as Jane Doe, according to US District Judge John Dowdell.
Video of the incident shows how the gang member took hold of his lawyer's pen before running and vaulting over the witness stand towards a shackled prisoner. In the 24-second clip, four gunshots ring out, as marshalls surround a wounded Angilau shouting at him to 'drop the pen.' Angilau later succumbed to his injuries.
During the attack, lawyers can be seen hiding behind their desks as armed officers order people onto the ground. The Utah courthouse was locked down for a number of hours following the incident.
READ MORE: Terrifying footage from inside Florida school shooting (VIDEO)
Judge Dowdell rejected the Angilau family's suggestion that the 25 year old was the victim of excessive force. "Having carefully reviewed the video of Mr Angilau's swift flight from counsel table, his vault over the witness stand with pen in hand, and his attempt to violently attack the shackled witness, the court has little difficulty determining that Doe's use of force to immediately stop Angilau's attack was objectively reasonable under the totality of the circumstances," Dowdell concluded, as cited by the Salt Lake City Tribune.
Via RT. This piece was reprinted by RINF Alternative News with permission or license.