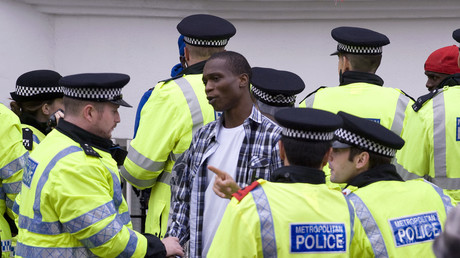 A Metropolitan police database introduced by the Tories and containing the name of thousands of suspected gang members has been slammed by Amnesty International as "racially discriminatory" and a breach of human rights.
The database was set up by the Conservative government in the aftermath of the 2011 London riots in a bid to better tackle gang crime in the country. It contains the names of up to 3,806 people, some of whom are as young as 12, 87 percent of whom are black, and nine percent from other ethnic minorities. That despite London's black population accounting for just 13 percent, and up to 1,500 of those listed being assessed as posing no risk of violence.
In a report on the police's suspect list, Amnesty called on the system to be overhauled. Known as the 'Gang Matrix,' the system is understood to be used by forces in Greater Manchester and the West Midlands as well as the Met. Amnesty's censure comes as new measures are sought to tackle the rise in violent gun and knife crime hitting major cities across the UK.
Amnesty expressed concern over the criteria used by the Met to list people as suspects, which includes unwarranted monitoring of social media profiles and the association of cultural preferences, such as liking grime music, to criminality.
Kate Allen, Amnesty International's UK director, said: "The entire system is racially discriminatory, stigmatising young black men for the type of music they listen to or their social media behaviour, and perpetuating racial bias with potential impacts in all sorts of areas of their lives.
"Some police officers have been acting like they're in the wild west, making the false assumptions that they can set up fake profiles and covertly befriend people online to monitor them without needing the appropriate search warrants.
READ MORE: Private police force will hit streets of Britain to fill void created by austerity
"The mayor of London needs to dismantle the matrix unless he can bring it in line with international human rights standards."
UK gun and knife crime soared a record 22 percent in 2017, according to the Office for National Statistics. London's murder rate has grown by almost 40 percent in the past three years, with the death toll overtaking that of New York in February and March.
If you like this story, share it with a friend!
Via RT. This piece was reprinted by RINF Alternative News with permission or license.