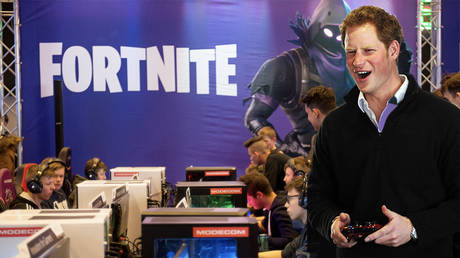 While smash hit survival shooter Fortnite has become the most popular computer game in the world, it has also made some powerful enemies, including Prince Harry who called for the game to be banned.
As Fortnite Battle Royal nears an unprecedented playerbase of 250 million, its addictive design and time-consuming nature has drawn the ire of parents all over the world, and has now even made an enemy of Prince Harry, who is soon to be a father himself.
Speaking at a YMCA event on Thursday, the Duke of Sussex touched on topics of mental health and addiction among young people, laying the blame on gaming and social media in particular.



Also on rt.com
Fortnite used to lure minor into sex, child pornography




After claiming that social media is "more addictive than drugs and alcohol," Harry highlighted Fortnite as an example of a game that "may not be so good for children," describing it as having been "created to addict." Painting an image of a society plagued by broken families and damaged children, the Prince proposed the somewhat radical solution of prohibiting the game altogether.
Fortnite shouldn't be allowed. Where is the benefit in having that game in your household?
Harry might have bitten off a bit more than he could chew with his remarks, as people on social media began to point out that a representative of a 21st century monarchy might think twice before discussing what is and isn't useful to society. Some also reminded the Prince that one of his favorite past-times, killing animals, is also not exactly a social necessity.
After all, considering some of the other widespread issues affecting youth in the UK, virtual violence might be the least of the country's worries.
Others irreverently suggested that perhaps Prince Harry had tried his hand at the game himself, only deciding it ought to be banned after finding himself competing in a playing field indifferent to his high birth.
There also remains the more conspiratorial possibility: that the British royal is loyal to Fortnite's newest game-market competitor, Apex Legends.
If the Kingdom were to take Prince Harry's suggestion, the move would at least not be totally unprecedented. Several regions of India have instituted bans against a similar last man standing survival shooter, PlayerUnknown's Battlegrounds (PubG), with lawmakers making similar claims about the game's detrimental effects on young minds. Last month, several young people were arrested for defying the ban.



Also on rt.com
Game over: Indian police arrest 16 people for playing mobile shooter PUBG




Think your friends would be interested? Share this story!
Via RT. This piece was reprinted by RINF Alternative News with permission or license.