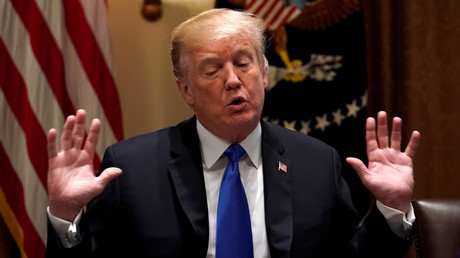 US President Donald Trump has been nominated for the Nobel Peace Prize for a second time after a mysterious fraudster once again forged the identity of a nominator.
The Norwegian Nobel Committee, the group in charge of selecting the Peace Prize winner, confirmed that the attempt Thursday was fraudulent. Apparently it wasn't the first time. According to committee secretary Olav Njolstad, the same person was responsible for forging nominations last year.
"Every year, we get lots of invalid nominations, but these are nominations that are not valid because those who nominate are not qualified to do so," Njolstad said, as cited by Norwegian news agency NTB. "As far as I know, this is the first example of someone nominating someone by stealing another person's identity."
It became clear that the nomination was fake when the committee contacted the person who was listed as making the submission. The person, who has not been identified, confirmed they did not nominate Trump for the prize.
The New York Times reported that Norwegian police have been in contact with the Federal Bureau of Investigation over the matter.
The Nobel Peace Prize selection process is famously secretive. The names of other nominees cannot be revealed until 50 years after that year's winner is selected. Those submitting nominations must meet very select criteria and include parliament members, university professors, directors of peace research and international affairs institutes. Former recipients of the prize are also given a vote. This year there are 328 candidates for the Nobel Peace Prize – the second highest ever recorded.
UPDATE: There are 328 candidates for the 2018 Nobel Peace Prize out of which 215 are individuals and 113 are organizations. Neither the names of nominators nor of nominees for the Peace Prize may be divulged until 50 years have elapsed. Read more here: https://t.co/emV6c50QSR

— The Nobel Prize (@NobelPrize) March 1, 2018
Four US presidents have previously been awarded the Nobel Peace Prize; Jimmy Carter, Theodore Roosevelt, Woodrow Wilson and most recently Barack Obama.
Obama was awarded the prize in 2009, just months into his presidency as the US sent 30,000 troops into Afghanistan. This year's winner will be announced in October, followed by a ceremony in Oslo on December 10.
Like this story? Share it with a friend!
Via RT. This piece was reprinted by RINF Alternative News with permission or license.