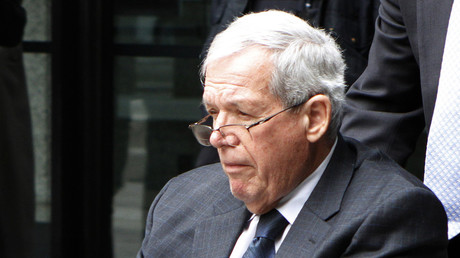 Former US House Speaker Dennis Hastert has been barred by a judge from ever being left alone with a minor. He's also not permitted to be in the presence of child, even when adults are on hand, unless one of them is aware of his crimes.
Hastert, the longest serving GOP House speaker, occupying the position from 1999-2007, was jailed in 2016, having being convicted of trying to cover up a $3.5 million pay-off to one of five boys he molested when he was a highschool teacher in Illinois.
The abuse allegations date from 1965 to 1981, when Hastert was a teacher and wrestling coach prior to becoming an Illinois state legislator.
Hastert is currently three months into a two-year supervised release from prison, though US District Judge Thomas M. Durkin, did not explain why these new restrictions were only now being placed on the 75 year old, reports AP.
Further to being barred from spending unsupervised time with minors, Hastert cannot possess pornograpghy or use "any sex-related telephone numbers." Judge Durkin described him as a "a serial child molester" at the time of his sentencing. Hastert will also have to pay for the installation of software that records his activity on a computer, which includes everything from browser history to online chats.
At the time of his trial prosecutors detailed how Hastert would first offer his victims a massage before abusing them, leaving the boys feeling "alone, ashamed, guilty and devoid of dignity."
One of the victims, known only as 'Individual A', (to whom Hastert was convicted of attempting to pay hush money) was allegedly abused at the age of 14 at a motel where the team was staying while attending a wrestling camp.
Hastert told the boy that he wanted to "check on" a groin injury, insisting that the teen strip naked so that he could give him a massage, after which he touched him inappropriately. Hastert couldn't be charged with sexual abuse because the statutes of limitation had expired.
In 1998, Hastert was a keen advocate of impeaching then-President Bill Clinton over his affair with Monica Lewinsky, telling Congress at the time that Clinton had "abused the powers of his office in an attempt to cover up his wrongdoing" and "abused and violated the public trust."
Via RT. This piece was reprinted by RINF Alternative News with permission or license.