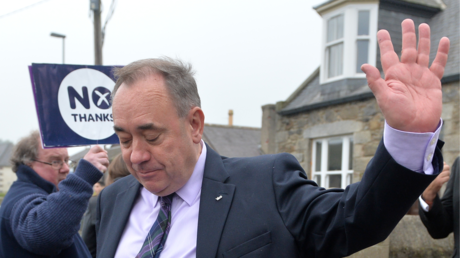 Former Scottish National Party (SNP) leader Alex Salmond has resigned from the party, saying he will clear his name against accusations of sexual harassment that have been made against him.
"I refute these two complaints of harassment and absolutely reject any suggestion of criminality," Salmond said in a statement on Wednesday, adding that he was resigning so as not to "facilitate opposition attacks on the SNP."
Salmond was a member of the SNP for 45 years, 20 of them as the party leader and seven as the First Minister of Scotland.
The SNP had never received any complaints about his conduct, and the Scottish government only received a complaint this January, years after he left office, Salmond said. Putting his successor at the helm of the SNP, Nicola Sturgeon, to suspend him would have caused a rift within the party and opened it up to political attacks, he added.
The confidentiality required by the legal process has been "broken greatly to my detriment and in a way which puts at serious risk the anonymity of both complainants," Salmond said in his statement.
Salmond also hosts a show on RT UK. Last week, he told RT that someone in the Scottish government had leaked the charges against him to the tabloids, damaging the confidentiality of the proceedings.
Although the system should be designed so that everyone has a fair shot, "the Scottish government process doesn't do that," he explained, adding that the government has rejected his attorneys' proposals of mediation and arbitration.
Salmond is now preparing for judicial review before the highest court in Scotland, and says he intends to re-apply for party membership as soon as he clears his name.
He was First Minister of Scotland from 2007 to 2014, resigning from both the post and party leadership after Scottish voters narrowly defeated his proposal to separate from the United Kingdom in a referendum.
Like this story? Share it with a friend!
Via RT. This piece was reprinted by RINF Alternative News with permission or license.