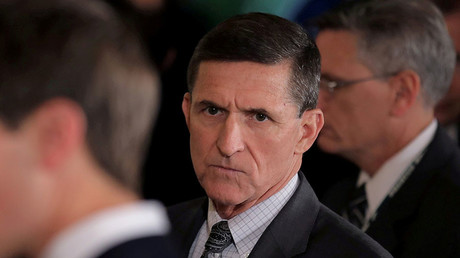 President Donald Trump's former national security adviser, Michael Flynn, has turned himself in to the FBI. He has been charged with making false statements to the FBI about his conversation with the Russian ambassador in December 2016.
The charge was detailed in court documents unsealed on Friday. The document accuses Flynn of making "materially false, fictitious, and fraudulent statements" to law enforcement about a phone call he had with former Russian Ambassador to the US, Sergey Kislyak. The statements were made on January 24, four days after Trump was inaugurated.

Flynn, 58, is expected to plead guilty to the charge during a 10:30am EST hearing in Washington, DC.
Trump's former National Security Advisor Michael Flynn is pleading guilty to one count of "willfully and knowingly [making] materially false, fictitious, and fraudulent statements" to the FBI. pic.twitter.com/4rYHLT2NTr

— Jenna McLaughlin (@JennaMC_Laugh) December 1, 2017
Flynn resigned less than a month into Trump's term, after the acting Justice Department head – who was subsequently fired for refusing to enforce a travel ban executive order – warned that he could be subjected to blackmail because his dealings with Russians hadn't been disclosed.
6/ Deals like this are offered *only* when a witness can incriminate someone "higher up the food-chain" than them. In the case of the nation's former National Security Advisor, the *only* people above him in the executive-branch hierarchy are the President and the Vice President.

— Seth Abramson (@SethAbramson) December 1, 2017
DETAILS TO FOLLLOW

Via RT. This piece was reprinted by RINF Alternative News with permission or license.