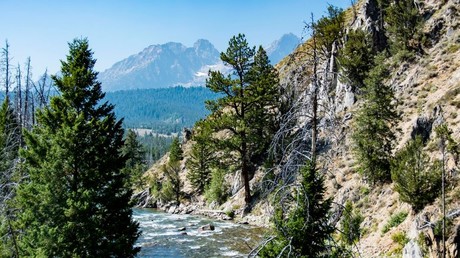 An eccentric octogenarian millionaire claims to have buried treasure somewhere in the Rocky mountains. Four people have already lost their lives in the hunt for the gold.
The millionaire in question is 86-year-old Forrest Fenn who travelled deep into the Rockies on two separate trips in 2010. On the first trip the former antiques dealer and Vietnam fighter pilot says he stashed an antique bronze chest.
On the second trip, he went back and filled it with 265 gold coins, hundreds of gold nuggets and some precious stones. The value of the haul fluctuates with the price of gold but current estimates suggest it is worth around $2 million.
In true treasure hunt fashion he also penned a mysterious poem that offers nine cryptic clues about the location of the loot. The 24-line poem is contained in Fenn's self-published memoir, The Thrill of the Chase. Its final stanza reads:
Unsurprisingly the promise of millions of dollars-worth of gold stashed in the mountains has sparked a frenzy of interest. Internet message boards are filled with people breathlessly analyzing Fenn's poem line by line and exchanging theories about where the treasure lies.
Numerous people say that the gold has already been found, others say the whole thing is a hoax, and there are even those who claim they know exactly where the treasure is – they just need someone else to go and collect it for them.
New Mexico-native Fenn says his motivation for setting up the hunt was simply to inspire people to get into the great outdoors. On that front, he has been wildly successful: the multi-millionaire says he receives hundreds of email inquiries every week and estimates that tens of thousands of people have actually searched for the treasure.
In a video for the New Mexico Tourism Department, Fenn says: "There are a lot of people out looking for the treasure. When they get home, they find out they enjoyed something better than finding a treasure."
However, for some the trail ends in tragedy. At least four people have lost their lives after getting into difficulty while searching in the unforgiving mountainous environment. The latest confirmed death came last month when it emerged that 53-year-old Jeff Murphy was hunting for the treasure when he fell to his death in Yellowstone last year.
Murphy's wife emailed Fenn during the search for her husband. "I hope your quest won't be adversely affected by these current events," she wrote, according to local news outlet KULR.
The deaths have prompted law enforcement figures to call on Fenn to call off the quest. "I want Mr. Fenn to retrieve the treasure or call off the hunt," Pete Kassetas, the chief of the New Mexico State Police, said to ABC News following two deaths in 2017. "It's solely based in the interest of public safety."
"I want people to have fun and I want people to be adventurous," Kassetas added. "But the reality is … when you have $2 million or so, as it's rumored to be, at stake, people make poor decisions."
After 54-year-old Randy Bilyeu died while searching for the gold in 2016, his family also appealed to Fenn to call off the hunt. "We don't need false hope and I am scared this will happen to someone else," his sister Kathy Leibold said. "It's been a living nightmare for our family. You never get over it. You cope and it's never easy."
Fenn took part in the search for Bilyeu but resisted the calls to end the treasure hunt, saying he's not sure what that would accomplish. "I have said that my treasure is not hidden in a dangerous place, so why are people searching in dangerous places?"
Instead he promised to release more clues that will make the hunt safer. Along with the cryptic poem there's now a trail of clues Fenn has dropped into interviews and his blog postings. He says the gold is stashed 5,000ft (1500 meters) above sea level somewhere north of Santa Fe. It's not in an outhouse or any structure and is also not in a graveyard or a mine. He also urged people not to search anywhere that couldn't be reached by an 80-year-old man.
The eccentric millionaire, who was awarded two flying crosses and one silver star for his service during the Vietnam war, is taking the long view on the legacy of his treasure hunt.  "Somebody could find it tomorrow and it may not be found for a thousand years. I'm looking at the big picture," he told ABC News. "A lot of people who are searching for the treasure don't see it the same way I do. I would love if someone found it tomorrow but if nobody found it for a hundred years, that's okay with me too."
Think your friends would be interested? Share this story!
Via RT. This piece was reprinted by RINF Alternative News with permission or license.