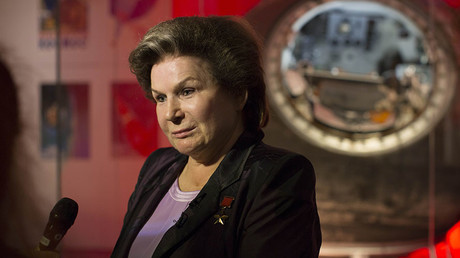 Valentina Tereshkova, the first woman and civilian to visit space, has shared her secret to a good life: "Work hard from dusk until dawn."
Tereshkova, who turned 80 last week, is in London to open an exhibition at the Science Museum on her remarkable life and career as a factory worker, cosmonaut, politician and women's rights campaigner.
Following training undertaken in great secrecy, Tereshkova, then aged just 26, went from obscurity to global fame when images of her boarding the USSR's spacecraft Vostok 6 were transmitted around the world.
Her expedition began on June 16, 1963. She orbited the earth 48 times over three days, logging more flight time than all American astronauts combined up to that date.
The 'First Lady of Space' would never fly again, but her mission was a major milestone in pioneering space exploration. It was another 20 years before the next woman would go into space, and Tereshkova remains the only female cosmonaut to have flown a solo mission.
Speaking to reporters on Wednesday night, Tereshkova said Russia, which has sent four women to space, is set to send many more.
"Like a bird cannot fly with one wing, society cannot develop dynamically without the active participation of women. There are very many clever, decent, smart and competent female specialists who work in cosmonautics. It seems to me that we have a good prospect for sending more women into space."
Following her trip to space, Tereshkova became an important international figure and champion of women's rights.
She was the chair of the Committee of Soviet Women, a social organization whose aim was to unify the women of the USSR, and became the emblem for International Women's Day there. The seagull, or 'chaika' in Russian, came to symbolize femininity and courage as that was the emblem assigned to her mission.
The Soviet space program, emboldened by the success of sending the first man into space in 1961, was determined to reach another 'space first' before America, so began searching for female cosmonauts in 1962.
Tereshkova was chosen out of 400 candidates, in part due to her parachuting experience. That was considered an essential quality because of the need for early cosmonauts to parachute from their capsules at about 2,000 meters on return to Earth.
The legendary cosmonaut, who is now an MP of the State Duma, shared her advice for a good life.
"To work, work hard from dusk until dawn. I don't have any other recipe.
"I remember that I have been working since 17 years of age. I was happy to be selected in the team of cosmonauts and have served many years in the air force."
Curator of 'Valentina Tereshkova: First Woman in Space,' Doug Millard, says the exhibition is a chance to learn more about Tereshkova as a woman, not just a cosmonaut.
"She was a factory worker, she played the domra, a musical instrument, she was a very keen parachuter which helped when she started her training to become a cosmonaut.
"After the mission … she became this global figure, she was an ambassador particularly for women's rights, not just within the Soviet Union but all around the world."
The exhibition runs until September 16.
Via RT. This piece was reprinted by RINF Alternative News with permission or license.