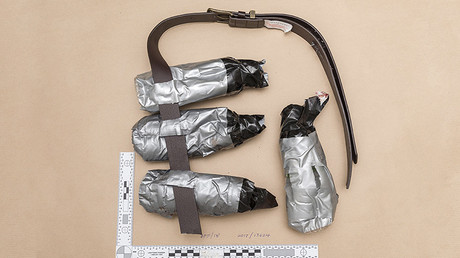 London police have released the first pictures of the fake suicide belts worn by the London Bridge attackers. The belts, all attached to the men at the moment when they were shot dead, looked genuine, police said.
All three of the suspects wore the leather belts, the London Metropolitan police said in a statement released on Sunday. 
Each belt had three disposable water bottles "covered in masking tape attached to the belt," the statement added.
"I have not seen this tactic in the UK before where terrorists create maximum fear by strapping fake explosives to themselves," Commander Dean Haydon, who is leading the investigation said, adding that "anyone who saw them on the night would have thought they were genuine."
It is still difficult to speculate on the motives of the terrorists who wore these fake belts, Haydon said.
"It could be that they had plans to take the attack in to a siege situation or it might be that they saw it as protection from being shot themselves," Haydon said.
The fake belts make the bravery of the police officers and regular citizens who took on the attackers even more remarkable, the investigators said.
"The belt would have been visible to them and if you are fighting back or aiming a shot at someone wearing the device you would clearly be very aware that you could be caught in an explosion," he said.
READ MORE: London attack 'could've been worse' as terrorists tried but failed to rent 7.5-ton lorry – police
The tree attackers who rammed into pedestrians at high speed on London Bridge on June 3 were earlier identified by the police as Rachid Redouane, Youssef Zaghba, and Khuram Shazad Butt.
READ MORE: Moment London attackers neutralized by police caught on CCTV (GRAPHIC)
The attackers used distinct, pink-coloured, ceramic kitchen knives. Do you recognise them? Did you see the knives being purchased? pic.twitter.com/HehPGIMdtB

— Metropolitan Police (@metpoliceuk) June 10, 2017
After killing three people, injuring many more, and crashing their vehicle, the suspects abandoned the van and rushed to the nearby Borough Market restaurant area, where they began to randomly stab people with ceramic knives. Five more people died from stabbing wounds. In total, eight people were killed and 48 others were injured in the attack.
Via RT. This piece was reprinted by RINF Alternative News with permission or license.