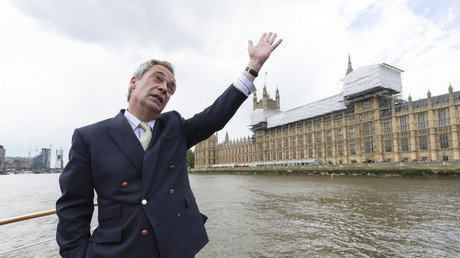 Nigel Farage has been slammed as a "hypocrite" after he admitted that his two sons have German passports, meaning they – unlike millions of UK citizens – will be able to retain the right to free movement in Europe post-Brexit.
Farage has been one of the chief architects of Brexit, which will see the UK effectively drop out of the EU in 2019 and lose its right to free movement – one of the fundamental principles of the bloc. But now he has stunningly admitted that his own children will retain that right, and many other liberties, because they have German passports as well as British ones.
The Brexiteer has four children; two with his wife Kirsten Mehr, who is German. The couple reportedly separated last year.
READ MORE: Anti-Europe Nigel Farage under fire for saying he will still take £70k EU pension
In an interview with former deputy prime minister Nick Clegg, Farage was asked if his children had dual citizenship. "Yes. Yes. And that link to the German side of their family is clearly important to them but their identity, when it comes to a football game, it's pretty clear which side they're actually going to support," Farage said, adding: "Their mum may not."
Furious Twitterati have now taken to the social media platform to blast his "hypocrisy." One user branded the Brexiteer as a "faux national twit."
Nigel Farage: two of my children have German passportshttps://t.co/h89WNRIaON
Wish I had a German passport I could continue to be an EU citizen.
This time next year I will be stripped of that honour thanks to the likes of Farage.

— Airscaper 🇪🇺 (@Airscaper) April 18, 2018
Hypocrite @Nigel_Farage has condemned us all with his #Brexit idiocy but his children have a German passport & get all benefits from it. If he's so anti-EU, he should resign as an MEP with a fat salary and his kids should give up on their EU passport just like we were forced to. https://t.co/ge3DPflzXS

— Nadina (@NadinaRC_) April 18, 2018
During the interview with the former Liberal Democrats politician, Farage then expressed bafflement at the amount of young people who decided to vote Remain in the 2016 EU referendum. "I'm astonished that the young people look upon the European Union as being this bright, shiny future.
"They will change their minds. What you can't see is that the European project is disintegrating before our eyes," he told Clegg on his podcast 'Anger Management.'
Farage then went on to talk about the UK's current standing in the world, and claimed Britain had been the loser in 1945 because World War II had "bankrupted" Britain. "We were the ones who lost everything. In many ways, I am very bullish about Britain as it is right now. Yeah, we've got our problems, our divisions, we've always had them. But there's a great feeling," he added.
If you like this story, share it with a friend!
Via RT. This piece was reprinted by RINF Alternative News with permission or license.