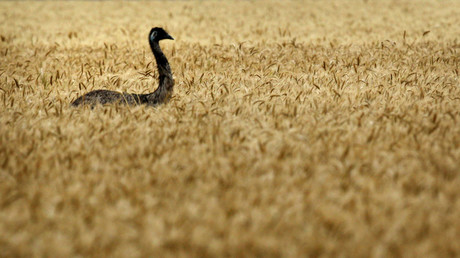 Stunned villagers stopped dead in their tracks on Sunday when an emu, a flightless bird native to Australia, was seen sprinting, like its life depended on it, down a snow-covered street in Essex. Did we also mention the emu is called Farage?
Farage, not to be confused with the equally flightless former UKIP leader, apparently broke loose from a home in Tollesbury where he is kept as a pet, and made a break for it last Sunday morning.
The beaky-Brexiteer took off down the snow-covered street, much to the surprise of locals. Let's face it, a giant Australian bird isn't your typical sight in a British village.
The emu was then cornered in a church graveyard and put in a headlock.
Why the bird was fleeing is unknown. Was Farage trying to avenge his oppressed ancestors culled in Australia's 1932 emu war (it's a thing, look it up!)? Did he want to meet his Eurosceptic namesake? Or was he just a spooked little critter 10,000 miles from his natural home and freaked out by the heavy snowfall?
In 2007 restrictions were lifted to allow UK residents to keep a number of non-dangerous wild animals as pets, including the emu. Emus can grow to be six-and-a-half feet tall and, while rumored to be rather aggressive, are actually quite placid birds.
The same can't be said for Australia's other giant flightless bird, the Cassowary. Described by RT's token Australian as "a big blue bird that will kill you," Cassowaries are roughly the same height as an emu. Named the world's most dangerous bird in the Guinness Book of Records, they are known for their large talons (used for slashing at enemies) and for their aggressive nature.
Local man Matthew Devonport said he was "flabbergasted" to spot the lanky, feathered Aussie marauding through Tollesbury.
"I was going up to the recreation ground with my son George and his two friends Sid and Fred Payne," he told Essex Live. "We came up to the churchyard and there was an emu there running through the gravestones."
Devonport said the town's resident Emu left a trail of feathers around the churchyard.
"Around three men cornered it and kind-of shooed it to the other side, where it lives. Some kind of argument broke out about how it managed to get out. An older lady was there, who was the owner. One of the men managed to get it in a headlock by its neck and he was took back home.
"The lady was very grateful and shook the men's hands. I was absolutely flabbergasted! Nothing like this ever happens in Tollesbury!"
Via RT. This piece was reprinted by RINF Alternative News with permission or license.