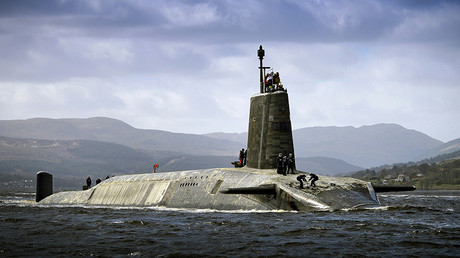 Nine sailors from one of Britain's nuclear submarines have been thrown out of the Royal Navy after failing drug tests while on duty, according to the Ministry of Defense.
The crew were tested following reports of drug-fueled parties during a stopover in the US
"We do not tolerate drugs misuse by service personnel. Those found to have fallen short of our high standards face being discharged from service," a Royal Navy spokesman said.
READ MORE: Britain will lose its defense capability if it sells off fleet to South America, MPs warn
The positive tests are just the latest scandal to hit the crew of the HMS Vigilant in recent times. Earlier this month, the captain of the nuclear vessel was relieved of his command after it emerged that he is being investigated following allegations of an improper relationship with a female subordinate.
His second-in-command was also taken off HMS Vigilant after reports he had engaged in an extra-marital affair with a female engineer.
The Times reported that the officers face a fine, demotion or, in the captain's case, dismissal if found guilty of breaching the Royal Navy's "no touching" policy for those in a relationship outside the command chain.
The scandal began while HMS Vigilant was docked in Kings Bay, Georgia in September, according to the Daily Mail.
The paper reported that while senior naval chiefs – dispatched to Florida after a tip-off by a whistleblower – investigated claims of the affairs, junior and senior crew members hosted drug-fuelled parties at their hotels. Learning of their activities, senior officers ordered crew-wide drugs tests before allowing them back on board.  
Nine of the junior recruits failed the test. Four were dismissed from the Navy in recent weeks, with a further five thrown out Friday.
READ MORE: What are the chances? Ship's anchor spears torpedo off Britain's south coast (PHOTO)
The submarine's captain and his second-in-command are the only officers on board the nuclear submarine with access to the safe containing the 'letter of last resort,' the prime minister's instructions of how to respond should the UK be attacked with nuclear weapons.
The Telegraph quoted Naval sources as saying the removal of two top officers from a vessel was "highly unusual."
Britain's four Vanguard-class submarines can hold up to 135 crew members, including a complement of 14 officers. They also can carry up to eight Trident missiles armed with nuclear warheads.  
Via RT. This piece was reprinted by RINF Alternative News with permission or license.