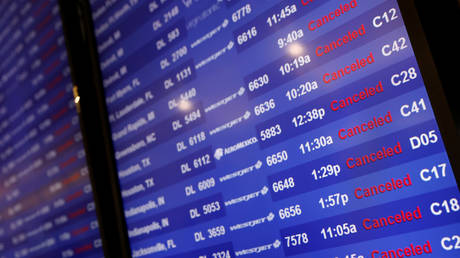 The US Federal Aviation Administration stopped flights to New York's LaGuardia Airport for an hour amid air traffic control staff shortages. The issue arose from the ongoing government shutdown.
The order was issued around 10:00 local time (15:00 GMT). Some flights arriving at the airport have been delayed. The move came as the US government shutdown entered its 35th day, now the longest in US history.
Flights were delayed to several other major airports across the US, including the Newark Liberty International Airport.
All the planes in the sky right now from North Carolina to New York. The people in charge of keeping these planes separated on the ground and in the air have not been paid for a month. pic.twitter.com/QOccYZ00TG

— Yashar Ali 🐘 (@yashar) 25 января 2019 г.
All flights destined to LaGuardia are currently experiencing delays averaging 41 minutes, the FAA said on its website.
The shutdown has resulted in government employees' pay being delayed. So far, two paychecks in a row have been missed. The situation has prompted Transportation Security Administration (TSA) workers to call in sick in larger numbers than usual, provoking security issues at airports, Axios reports.
Disruptions in air travel will inconvenience business elites and such, thus pressuring the Congressional GOP to finally end the shutdown. Probably the most cynical and selfish way that the entire saga could conclude.

— Michael Tracey (@mtracey) January 25, 2019
About an hour later, the FAA lifted the ground stop order at LaGuardia but still warned about further delays.
The disruption came a day after airline officials warned that the shutdown might affect air traffic. The head of the US air traffic controllers' union complained that air traffic controllers are making mistakes which they haven't made in decades – all because of the stressful situation provoked by the shutdown.
"They [the traffic controllers] are making them because they're stressed out, because they don't know when this is going to end and they're distracted," Trish Gilbert, president of the National Air Traffic Controllers Association, said Thursday on PBS NewsHour.
Air traffic controllers "are making mistakes that they hadn't made in the 10, 15, 20 years …. They're making them because they're stressed out, because they don't know when this [shutdown] is going to end."

—Trish Gilbert, National Air Traffic Controllers Assoc.
Via PBS pic.twitter.com/aIBN89GVWo

— Kyle Griffin (@kylegriffin1) January 25, 2019
She also warned that such situations could affect the security of the passengers and called it "unacceptable."
Some 800,000 federal employees have been affected by the payment lapse caused by the shutdown. About 420,000 of them, including the air traffic controllers, were considered "essential" and were ordered to go to work despite not receiving regular paychecks.
Think your friends would be interested? Share this story!
Via RT. This piece was reprinted by RINF Alternative News with permission or license.