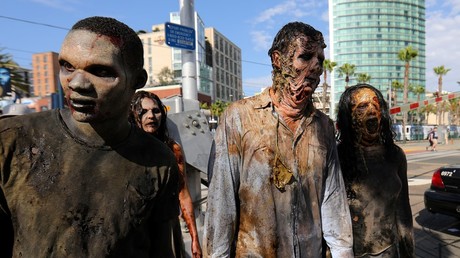 Florida residents received a very worrying warning on Sunday when they were told in an official alert the area had "extreme zombie activity."
Lake Worth residents received the message during a power cut on Sunday. The alert warned of both a power outage and zombies, and came through at about 1:41am, meaning some residents would have woken up to a very scary message.
READ MORE: 'Kills zombies or your money back': Musk promotes $500 flamethrower (VIDEOS)
"Power outage and zombie alert for residents of Lake Worth and Terminus," the alert said. "There are now far less than seven thousand three hundred and eighty customers involved due to extreme zombie activity."
'Terminus' is actually a fictional town from the hit zombie TV show, 'The Walking Dead.'
Zombie alert in Lake Worth!!

Seriously.

The city sent out a zombie alert early Sunday morning.

This is the alert.

The city tells me they're not sure how it happened.

I'll tell you their explanation @WPBF25News at 6. pic.twitter.com/1waeuwdX0G

— Ari Hait (@wpbf_ari) May 21, 2018
The city hasn't revealed how a zombie warning went out along with the power outage message. The Lake Worth Live Facebook page cited the city's public information officer, Ben Kerr, who said 7,800 customers were affected by the outage and the city is "looking into the reports that the system mentioned zombies."
"I want to reiterate that Lake Worth does not have any zombie activity currently and apologize for the system message," Kerr said.
Officials told WPBF the alert did come from the city, but that it had been altered.
The mysterious error comes after residents in Hawaii received an alert that a ballistic missile threat was headed their way in January. This turned out to be the result of an employee pressing the wrong button.
Like this story? Share it with a friend!
Via RT. This piece was reprinted by RINF Alternative News with permission or license.