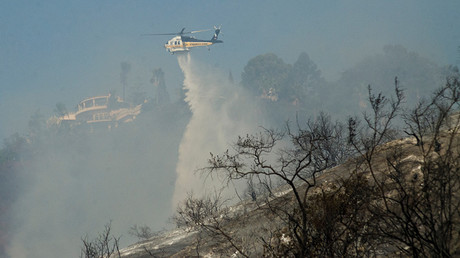 High winds and dry conditions are fueling four separate brushfires in Los Angeles, California. Tens of thousands of acres of land and 150 homes have burned down so far. Among the casualties was media mogul Rupert Murdoch's estate.
The affluent neighborhood of Bel Air fell victim to the Skirball fire. The flames consumed half a dozen properties, including the $28 million estate owned by the 21st Century Fox executive chairman. The 13-acre Moraga Vineyard is "the only commercial vineyard in Los Angeles," according to NBC.
The destruction of Murdoch's home prompted a flurry of snide tweets critical of the Fox News executive and his stance on climate change.
The fire also threatened properties belonging to SpaceX CEO Elon Musk and pop superstar Beyonce.
"Purple" alerts were called for LA-Venture County, Orange County-Inland Empire and San Diego, while a "marginal" alert was issued for Santa Barbara. An extreme alert means that fires have extreme growth, will burn very intensely and will be uncontrollable.
The fire department said there was no way to contain the fires right now and that they will continue to burn through Saturday.
Los Angeles Mayor Eric Garcetti said more than 230,000 people have been forced from their homes in Los Angeles and Ventura counties. Around 260 public and charter schools were closed on Thursday and will remain closed on Friday.
Via RT. This piece was reprinted by RINF Alternative News with permission or license.