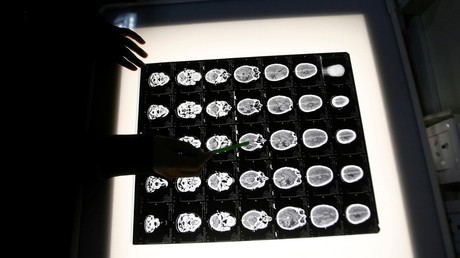 A study of dementia sufferers by Oxford University suggests exercise may not give respite to the terminal disease, with researchers finding regular physical activity actually compounds the patients' deterioration.
The degenerative condition, which involves a series of changes in the brain resulting in severe cognitive decline, usually escalates through a number of stages from mild memory loss to an inability to walk or even swallow.
READ MORE: Poverty & stress put people at greater risk of dementia – Alzheimer's experts
Around 50 million are currently living with the disease, according to Alzheimer's Disease International, with the fastest growth observed in China and India.
A new study published in the British Medical Journal on dementia and physical activity carried out by researchers from both Oxford and Warwick universities, and concludes that exercise "does not slow cognitive decline."
The finding is at odds with a popular assumption that certain activities can help, with care groups such as the British Alzheimer's Society promoting exercise for capable patients on the basis it can improve mood and general health.
Over the course of four months it compared treatment of patients with early onset dementia, with some of the group given a strict physical regime to follow as a supplement to their normal care.
A total of 494 people diagnosed with dementia took part in the study, with each participant's health and ability to give consent assessed prior to the research. The study subjects were given a tailored exercise program, including cycling and strength training, along with their usual medical care and attended group gym sessions for fourth months.
READ MORE: Living close to busy roads may cause dementia – study
Researchers then recorded interactions with the dementia sufferers and their carers, eventually assessing any improvement or degeneration of a patient's health using cognitive scales and physical tests such as walking. However, the research results suggested exercise not only didn't help the participants' condition, but warned it could cause more harm.
"The exercise improved physical fitness in the short term, but this did not translate into improvements in activities of daily living, behavioral outcomes, or health related quality of life,"  the study concluded. "There is the possibility that the intervention could worsen cognition."
Like this story? Share it with a friend!
Via RT. This piece was reprinted by RINF Alternative News with permission or license.