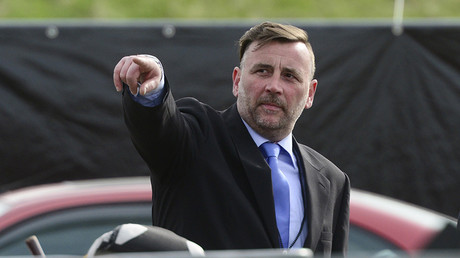 The German founder of an anti-Islam group has been booted out of the UK. Detained immediately on arrival, Pegida founder Lutz Bachmann landed at Stansted on Saturday night and was expelled on Sunday morning.
The Home Office confirmed that Bachmann, who has in the past led protest marches of tens of thousands of people, was refused entry to the UK on the grounds that his presence was not in the interest of the public good. "Border Force has the power to refuse entry to an individual if it is considered that his or her presence in the UK is not conducive to the public good," a spokesperson said.
Bachmann planned to speak to supporters with ex-English Defence League leader Tommy Robinson in Hyde Park on Sunday. Robinson, 45, founded a subsidiary branch of Pegida in the UK in 2016, and remains an adviser to the anti-Islam group today. The UK branch of the organization failed to replicate the success of its German forerunner, failing to organize significantly since 2016.
Bachmann was forced to step down from his role as Pegida leader in January 2015 after a photograph of him surfaced online… dressed as Adolf Hitler. He initially tried to dismiss the picture as a "joke."
READ MORE: Free speech or hate speech? Right-wing activists 'banned' from Britain (VIDEOS)
A spokesperson for anti-racism activism group Hope Not Hate (HNH) said they were not surprised Bachmann was refused entry to the UK. "Bachmann is a multiply convicted racist, drug dealer and burglar who, like Tommy Robinson, has made his name as a prominent Islamophobe," they told The Independent.
"Far from being denied a chance to air their views, as they often like to falsely claim, these extremists have abused freedom of speech and social media platforms to spread and push toxic views which, as Britain's most senior anti-terror police officer has warned, are akin to how jihadi hate preachers like Anjem Choudary pushed their vile beliefs in the past."
HNH also took the opportunity to applaud the UK Government for turning away other far-right speakers. Canadian alt-right vlogger Lauren Southern was blocked from entering Britain near Calais after she distributed flyers in Luton that said, "Allah is a Gay God." Far-right pair Brittany Pettibone and Generation Identity's Martin Sellner were also denied entry to the UK. The latter was due to speak at Speaker's Corner with Robinson on Sunday.
"These extremists are two sides of the same coin and need each other – which we, the ordinary Britons, do not," said the HNH spokesperson. "In the wake of the Government's decision to refuse entry to Lauren Southern, Brittany Pettibone and Martin Sellner last week, we warned that Bachmann – with his extreme history – could also be turned away. It appears that today that is the case."
Like this story? Share it with a friend!
Via RT. This piece was reprinted by RINF Alternative News with permission or license.