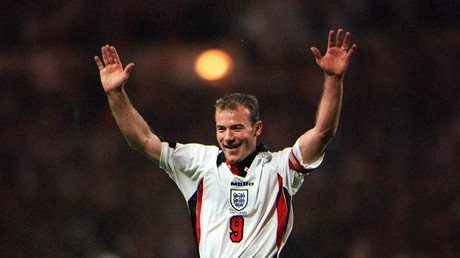 Ex-England and Newcastle footballer Alan Shearer, who is now a pundit for BBC Sport, has said that despite warnings about violence in Russia from British politicians, he has "been warmly welcomed and the atmosphere is great."
In the weeks leading up to the FIFA 2018 Russia World Cup, there have been a number of scare stories from British media and politicians, warning English football fans of the likelihood that they would face acts of violence during their stay.
However, BBC Match of the Day pundit Alan Shearer, who will be part of the station's World Cup team during the football tournament, has taken to social media to tweet that despite the warnings, he has "been warmly welcomed."
Shearer's comment follows similarly positive statements from England legends Gary Lineker and John Barnes.
Shearer's BBC colleague, ex-England striker Lineker told the Radio Times magazine that he had no concerns about visiting Russia. Asked whether he had undertaken hostile environment training, he said: "I'm not an aggressive, violent man, as my football record suggests. I just hide behind my desk."
READ MORE: Russian hooligan-fearing Labour MP slammed by senior police officer
He continued: "I don't know what you're expecting to kick off. Well, nothing will. Because it never does, it'll be fine. It'll be great. What governments do is another matter, but the people of Russia have actually been very welcoming."
Following his positive comments, Lineker was attacked by Piers Morgan.
John Barnes, the legendary ex-Liverpool player, told RT's Sam Delaney's News Thing that Brits should not get on their "high horse about racism in Russia because it's fantastic here [in the UK], it's not."
He added: "There's a big deal of racism all over the world, there's a big deal of racism in this country."
British MPs on the Foreign Affairs Committee warned on June 8 that Russia's homophobic laws meant that openly homosexual football supporters would "not only face the risk of violence from vigilante groups, but lack adequate protection from the state."
Tom Tugendhat, chair of the committee, said: "Vague reassurances from Foreign Office ministers have not been enough to reassure us that UK nationals will be safe, regardless of their background or sexual orientation."
That's despite Deputy Chief Constable Mark Roberts, the national lead for football policing, telling MPs in May that Russian organizers wanted to host a "safe tournament," saying that the Russian police have the intention and the ability to keep people safe.
The 2018 FIFA Russia World Cup kicks off on Thursday, with hosts Russia taking on Saudi Arabia after the opening ceremony.
Like this story? Share it with a friend!
Via RT. This piece was reprinted by RINF Alternative News with permission or license.