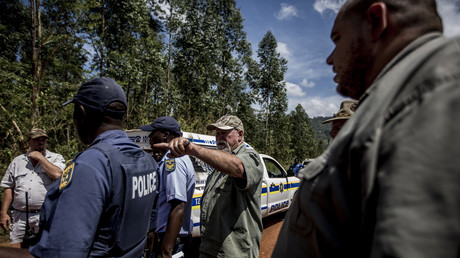 Former US envoy to Russia Michael McFaul said it was "weird" that RT was covering what he described as "threats" –in quotation marks– to white farmers in South Africa, retweeting a conspiracy linking RT's coverage to Fox News.
South Africa summoned the US chargé d'affaires in Pretoria on Thursday, after US President Donald Trump tweeted his concern over reports that South African authorities were planning to seize land from white farmers without compensation. Trump credited Fox News' Tucker Carlson for bringing up the issue.
On Thursday evening, Andrew S. Weiss, a vice president at the Carnegie Endowment's Russia and Eurasia Program, channeled Captain Renault from Casablanca to declare his shock about RT "pushing a storyline that's similar" to Carlson, pointing to a story about an Afrikaner family looking to relocate to Russia.
McFaul retweeted Weiss, adding, "Thanks for pointing out. I didn't know that 'threats' to South African farmers was a major story on RT."
"It's weird, that's for sure," he added later, responding to a Twitter follower who speculated it was "Trump and the Russians messaging each other."
It's not immediately clear if Mr. McFaul – an avid follower of RT lately – has actually checked the channel's coverage before making insinuations but, in reality, RT has been covering the controversy surrounding land expropriation and its social and economic consequences in South Africa for months – long before it caught the attention of Fox News or President Trump.
Far from being fictional, the problems for the Afrikaner farmers have become particularly acute, after the government of President Cyril Ramaphosa proposed a constitutional amendment focusing on the conditions for confiscating land. Ramaphosa reportedly believes that the property clause in the Constitution already enables "expropriation of land without compensation" – all in the public interest. Earlier this week, South African authorities reportedly seized two farms in the north of the country, after the owners refused to sell for 1/10 of the assessed value.
Reports of Afrikaner farmers being pressured into giving up their land or attacked have been appearing in an array of sources, as well as in witness accounts – and are not linked to any particular news outlet.
Subscribe to RT newsletter to get stories the mainstream media won't tell you.
Via RT. This piece was reprinted by RINF Alternative News with permission or license.