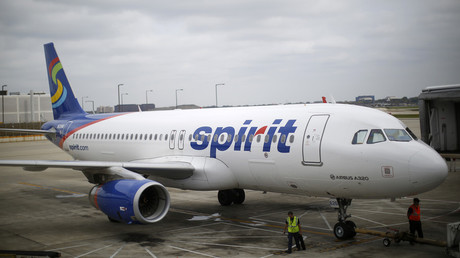 A distressed veteran suffering from PTSD was removed from a Spirit Airlines flight after it was diverted to Minnesota for a medical emergency.
The incident took place after the Houston-bound flight landed in Rochester International Airport. The woman in question, who is believed to be a military veteran, became panicked and wanted to get off the plane.
Video footage taken inside the plane shows the visibly distressed woman running up and down the aisle shouting: "Get me the f*ck of this goddamn-f*cking plane!"
Cabin crew and other passengers attempted to calm her down. At one stage she says her brothers are Marine snipers. "You want to f*ck with a Marine?" she asks.
"You want to know what hell is? I've f*cking been there ten f*cking times," she shouts after begging to be let off the plane. "I've lived to tell the f*cking story."
Towards the end of the video, the woman can be seen crying as she paces up the aisle.
Spirit Airline released a statement explaining the passenger "became erratic and irate and was removed from the aircraft with the assistance of law enforcement." It apologized to its customers.
Rochester Lieutenant Mike Sadauskis said the woman wasn't arrested and that they were told she was a veteran with post-traumatic stress disorder (PTSD), KIMT3 reports. She was taken to a hospital to be evaluated. RT has contacted the police for further information.
READ MORE: Veterans' access to medical marijuana blocked by Republicans
 Passenger Chianti Washington shared footage of the incident and expressed empathy for the distressed passenger. "Just to be in that confined space when someone that is going through something very traumatic in their life and there's nothing you can do," she said.
 PTSD is a huge problem for veterans who return from tours in warzones. According to the Department of Veteran Affairs, between 11-20 percent of veterans who served in the Iraq and Afghanistan wars are suffering from PTSD in a given year. At least 30 percent of Vietnam war veterans have had PTSD.
 The disorder can trigger flashbacks, anxiety, anger, nightmares and severe emotional distress.
Think your friends would be interested? Share this story!
Via RT. This piece was reprinted by RINF Alternative News with permission or license.