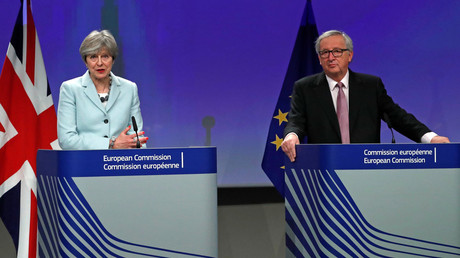 Britain's Brexit divorce bill will reach up to £39bn ($52bn) when the nation leaves the European Union, Downing Street has confirmed. The so-called divorce bill, which is being paid to meet Britain's "commitments" to the union until 2020, had been the cause of a rift between Brussels and London.
In September, EU officials scoffed at Prime Minister Theresa May's attempt to offer £20bn ($26bn) after a speech in Florence.
READ MORE: Confirmed! Brexit deal brokered between May and EU – no hard border for N. Ireland
Insiders claimed the bloc wanted as much as £60bn, since Britain's exit will leave a yawning black hole in the budget.
On Friday, after news the first round of negotiations were signed off, the figure was reported. Significantly, no officials have denied it.
EU lead negotiator Michel Barnier said it would be subject to change, while not officially confirming the figure.
Downing Street confirmed it, hours later. 
"I've never quoted any figures so I'm not going to start today, even if figures are bandied about. Some can be regarded as realistic. That's not what I'm interested in – I wanted us to reach an unambiguous agreement," Barnier said.
For all the talk of taking back control, amazing that the UK and even the Conservative Party had a harder job staying united than the 27 EU Member States. #BrexitDeal

— Sam Underwood (@samunderwood25) December 8, 2017
Right, I'm off to see #DavidDavis to negotiate the sale of his house to me. The smart money is he'll end up giving me his life savings as well. #BrexitDeal

— Aaron Jones (@ReelWeddingsUK) December 8, 2017
"It's not political, it's because we can't actually calculate exactly the figures concerned. To a certain extent it depends on the growth rate, to what extent credits are taken up, to what extent payments are made.
"These are figures that are going to shift."
If the UK wants a transition period beyond December 31, 2020, when the current seven-year EU budget ends, it will have to pay more.
The EU may seek further payment during the transitional period.
Via RT. This piece was reprinted by RINF Alternative News with permission or license.