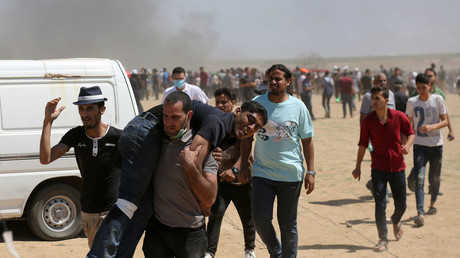 Activists have called for an emergency demonstration outside Downing Street in response to over 50 Palestinians being killed and around 2,500 injured by Israeli forces, as Gazans protest the opening of the US Embassy in Jerusalem.
US President Donald's Trump decision in December 2017 to relocate the US Embassy from Tel Aviv to Jerusalem drew widespread condemnation, with many critics saying the move would inflame tensions in a region that has endured severe unrest for the best part of seven decades.
READ MORE: US opens Jerusalem embassy on 'great day for peace' as dozens of Palestinians shot dead
The demonstration, scheduled for Tuesday afternoon at the headquarters of the UK government, is being organized by the Palestinian Solidarity Campaign (PSC), Stop the War Coalition, Friends of Al Aqsa, and is supported by the Campaign for Nuclear Disarmament (CND).
PSC Director Ben Jamal said in a press release: "For several weeks now, the UK Government has ignored the call for it to take action to hold the Israeli government to account for its premeditated killings of Palestinians.
"What we are witnessing today is a massacre. Whilst the Israeli Government holds ultimate responsibility for this slaughter of peaceful protestors, culpability also lies with all governments that do not take action to stop the killings.
"We call on the UK government to press for action by the UNSC to end Israel's use of lethal force. We call upon UK Government to immediately suspend the sale of arms to Israel."
READ MORE: Smiles amid bloodbath: Twitter points out bad optics of US embassy opening during Gaza massacre
A spokesperson for Prime Minister Theresa May said: "We are concerned by the reports of violence and loss of life in Gaza. We urge calm and restraint to avoid actions destructive to peace efforts. The UK remains firmly committed to a two-state solution with Jerusalem as a shared capital."
While Middle East Minister, Alistair Burt, expressed sorrow at the loss of life, he also appeared to apportion some blame to Palestinian 'extremists'.
"Extremely saddened by loss of life in Gaza today. Concerned peaceful protests are being exploited by extremist elements. Urge restraint in use of live fire. Violence is destructive to peace efforts. UK remains committed to a two-state solution with Jerusalem as a shared capital," Burt said in a statement.
Think your friends would be interested? Share this story!
Via RT. This piece was reprinted by RINF Alternative News with permission or license.