(RT) –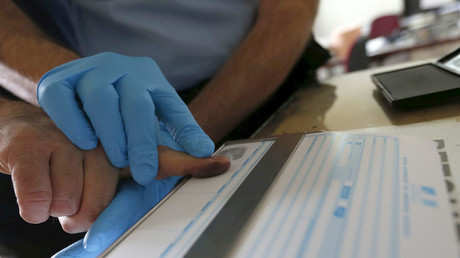 DNA profiles and fingerprints for more than 7,800 suspected terrorists are held by British police in a little-known database, according to a government watchdog.
Biometric Commissioner Alistair MacGregor QC revealed the figure, which is higher than expected, in his annual report on Friday.
The watchdog's report indicates the number of biometric records kept on the counter-terror database has risen from 6,500 identified individuals in October 2013.
MacGregor's report also revealed that errors and delays in an official drive to remove the biometric data of those never convicted of a terrorism offense resulted in the deletion of a significant number of records of terrorism that should have been kept for national security reasons.
The commissioner expressed serious concerns about the counter-terrorism database operated by police, which has been built up gradually since the Terrorism Act was passed in 2000.
He said he decided to publish the number of individuals on the database despite warnings in 2014 that doing so would be contrary to national security interests. MacGregor said he was "not wholly persuaded" by the argument.
More than half of the people identified on the list – some 55 percent, or 4,350 – have never been convicted with an offense.
MacGregor expressed concern about the delays and errors in the reviewing and deletion of biometric profiles of terror suspects who have not been convicted.
By October 2015 some 1,900 cases had been reviewed. It was decided that 217 should be retained indefinitely for national security reasons, he said. However, more than 450 records, which should have been retained for national security reasons, were destroyed.
"The full scale and continuing nature of the problems caused by delays in the national security determination process have only recently become apparent and I have been assured that further work is being done as a matter of urgency to prevent such problems occurring again and to mitigate their consequences.
"Those errors and delays have led, or will lead, to the loss of a significant number of biometric records that probably could and should have been retained," he added.
The watchdog's report indicates British police deleted 1.7 million DNA profiles and 1.6 million sets of fingerprints since Home Secretary Theresa May introduced legislation in 2012 requiring the removal of details belonging to those who have never been convicted of a criminal offense.
This piece was reprinted by RINF Alternative News with permission or license.