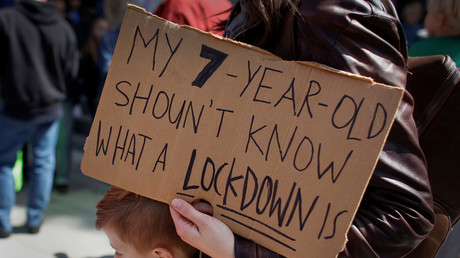 A shocking video of a four-year-old boy demonstrating how to use a rifle has gone viral on social media.
The video, taken at the National Rifle Association's (NRA) annual meeting in Dallas, Texas, shows the boy removing and reinserting the rifle's magazine and pretending to shoot.
A woman who also appears on video is seen asking the boy his name and encouraging him to play with the gun.
"Show me what you do with your gun…take the magazine out," the woman says.
She then asks for a 'high five' and turns to the camera to say: "That is adorable."
But gun control campaigners aren't amused. The video was first shared by Shannon Watts, founder of Moms Demand Action and Everytown for Gun Safety.
A scene from the @NRA annual meeting in Dallas. 5,790 American children receive medical treatment each year for a gun-related injury; 21% of those injuries are unintentional. About 1,300 children die annually from a gun-related injury in the US. #NRAAMpic.twitter.com/6ONVhlJytG

— Shannon Watts (@shannonrwatts) May 6, 2018
Watts tweeted the grim statistic that 5,790 US children receive medical treatment every year for gun-related injuries — and that 21 percent percent of those injuries are unintentional, often the result of children playing with guns they should not have access to.
A report last year found that an average of 1,297 children lose their lives each year due to gun violence in the US.
Watts also confirmed that the woman seen on the video encouraging the child to play with the rifle is Kendall Jones, who was the subject of outrage when photographs emerged of her trophy hunting with her father in 2014.
Jones describes herself on her website as "the youngest person to harvest the African Big 5, taking a white rhino, lion, Cape buffalo, leopard, and African elephant."
In case you're wondering who this woman is, she "skyrocketed to fame" after people were outraged that she and her father killed an African elephant, white rhino, lion, Cape buffalo and leopard in 2009. pic.twitter.com/9nBcZ6C9wz

— Shannon Watts (@shannonrwatts) May 7, 2018
Jones herself tweeted out the video of the boy operating the gun as an example of "parenting done right."
US President Donald Trump made a speech at the NRA convention in Dallas where he suggested that the 2015 terror attack in Paris at the Bataclan theatre and other locations around the city which killed 130 people, could have been prevented if more people at the scene had been carrying guns.
Trump also likened London to a "war zone" due to the level of knife crime in the city.
Via RT. This piece was reprinted by RINF Alternative News with permission or license.