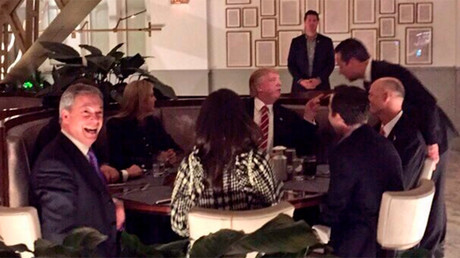 Former UKIP leader Nigel Farage dined with President Donald Trump at his Washington hotel on Saturday, although the Eurosceptic is not thought to have been invited to the meal.
Perhaps unsurprisingly, Farage's tweet boasting about the dinner was met by mockery online.
Farage dined at the Trump International Hotel alongside Trump, Ivanka Trump and her husband, White House advisor Jared Kushner, Florida Governor Rick Scott, and Benny Johnson from the Independent Journal Review.
According to Johnson, Farage joined the dinner at the last minute, and had not been invited beforehand.
Two things:
1. Farage was not invited to this dinner. Squeezed in at last second
2. Sec. State Tillerson is dining w/wife alone across room

— Benny (@bennyjohnson) February 26, 2017
@bennyjohnson Farage. The party guest nobody really wants but for some reason have to tolerate

— James longman (@longers1) February 26, 2017
@TheMediaTweets This is similar to sneaking up behind a celebrity who is unaware of your presence and taking a selfie

— Vespillo (@vVespillo) February 26, 2017
@JamieRoss7 He looks and is the definitive hanger on whose only job is to grin inanely at every camera.

— Kate aka Jock (@KatePotts11) February 26, 2017
Farage was in the US for the Conservative Political Action Conference (CPAC), where he delivered a speech on Brexit.
"In 2016, we witnessed the beginning of a global political revolution, and it's one that is not going to stop. It's going to roll out all over the world," he said at the event.
Many social media users weren't pleased that Farage – who remains a European Member of Parliament despite campaigning for Brexit and whose former UKIP party suffered losses in UK elections – has access to the president.
Farage was one of the first foreign politicians to meet with Trump after his election victory in November. The president even suggested that Farage could be the UK's ambassador to the US, an idea that UK Prime Minister Theresa May quickly quashed.
Thank you Sir Farage for all you have done for Britain. 🙏 You are the official UK embassador in our eyes.

— TheJourneyGreatest (@JourneyGreatest) February 26, 2017
@dennis20159@EdSkipper Yes, you're right. Farage is a lying, low-rent snake. Most in the UK think he's a total idiot.

— Eileen De Freest (@eileendefreest) February 26, 2017
The White House press pool isn't being allowed into Trump's hotel, which is leased to DJT by the federal government.

— Steven Dennis (@StevenTDennis) February 26, 2017
While Farage appeared to have access to the president, the press pool was reportedly denied access to the hotel.
Via RT. This piece was reprinted by RINF Alternative News with permission or license.