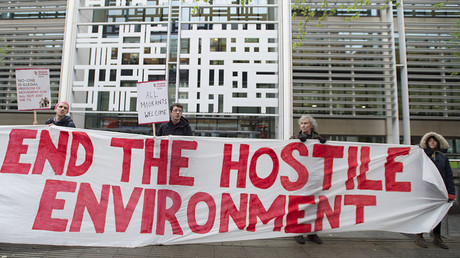 UK Prime Minister Theresa May is once again facing calls to resign with many labeling her as ultimately responsible the Windrush scandal, despite ex-Home Secretary Amber Rudd already resigning over the matter.
Rudd resigned on Sunday night saying she had inadvertently misled the public over immigration removal targets. While many welcomed her decision to step down, others argued it does not go far enough as she is merely "carrying the can" for May's "racist" policies towards immigrants. During her time as Home Secretary, May infamously vowed to create a 'hostile environment' for illegal migrants.
READ MORE: Shadow Home Secretary Diane Abbott stumbles in Piers Morgan car-crash interview
Amelia Gentleman, the Guardian journalist who broke the story, said Rudd's resignation is an "extraordinary moment" for the people caught up in the scandal. She told Radio 4's Today program that while some from the Windrush community are "extremely relieved" the government is taking the issue seriously, they expressed dismay at the fact Rudd was the one stepping down rather than the PM.
"All of them expressed a bit of puzzlement that it was Amber Rudd taking the rap for this, because they point very clearly to Theresa May who they see as the architect of the policies that caused them all of these problems," she explained.
Labour figures echoed the calls for May to fall on her sword. Labour MP for Kensington Emma Dent Coad tweeted: "Amber Rudd has fallen on Theresa May's sword. Now it is time that this Prime Minister – who introduced these policies at the Home Office – offered an apology and stood aside." A sentiment echoed by Labour deputy leader Tom Watson, among others many of whom used the hashtag '#Maymustgo' on Twitter. 
Rudd's resignation is set to deal a huge blow to May as the home secretary becomes the fourth cabinet minister to resign in just six months. Former Defense Secretary Michael Fallon, International Development Secretary Priti Patel and First Secretary Damian Green all stepped down, over sexual harassment allegations, porn material in office environments and secret meetings with foreign governments, respectively.
There are also fears the pro-EU Home Secretary's resignation could cause an imbalance between Leavers and Remainers within Cabinet ahead of a crucial meeting on Wednesday to discuss the UK's post-Brexit trade agreements. Senior Eurosceptics including David Davis, Boris Johnson, Liam Fox and Michael Gove are expected to call on May to abandon, what their ally MP Jacob Rees-Mogg branded, "cretinous" customs partnership plans amid concerns it would represent kowtowing to the EU climb-down. In turn, Pro-EU Tories in the cabinet are expected to vote for a non-binding amendment that would make staying in the EU customs union an "objective" of negotiations.
If you like this story, share it with a friend!
Via RT. This piece was reprinted by RINF Alternative News with permission or license.