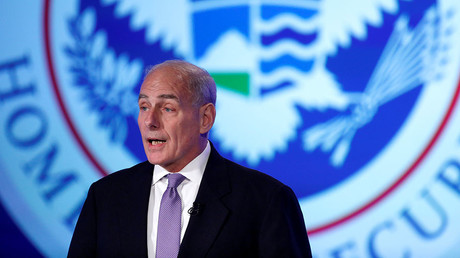 Homeland Security Secretary John Kelly chastised Congressional lawmakers critical of the Trump administration's immigration enforcement, arguing his employees are only trying to keep America safe.
"If lawmakers do not like the laws they've passed and we are charged to enforce, then they should have the courage and skill to change the laws,'' Kelly said in a speech at George Washington University on Tuesday, according to the Washington Post. "Otherwise they should shut up and support the men and women on the front lines.''
The stinging rebuke came as the retired Marine general argued immigration agents and airport security officers are unjustifiably criticized for enforcing federal laws and "asked to do more with less, and less, and less."
"For too long, the men and women of my department have been political pawns. My people have been discouraged from doing their jobs for nearly a decade, disabled by pointless bureaucracy and political meddling, and suffered disrespect and contempt by public officials who have no idea what it means to serve," Kelly said.
"They are often ridiculed and insulted by public officials, and frequently convicted in the court of public opinion on unfounded allegations testified by street lawyers and spokespersons," Kelly said, according to the Associated Press.
Critics have argued the agency is too heavy-handed in enforcement operations, including arresting immigrants in the US illegally whose only offense was being in the country without permission.
President Donald Trump was quick to add his two cents on Twitter, arguing it was the Obama administration that was "weak" on illegal immigration. Trump even blamed former President Barack Obama for allowing the violent MS-13 gang to form in America.
TWEET
The MS-13, also known as the Mara Salvatrucha, is one of the criminal groups behind a wave of violence in Guatemala, Honduras and El Salvador. The gang was formed in Los Angeles by Salvadoran immigrants fleeing civil war in the 1980s and remains active in the US. US officials deported several gang members in the early 2000s to their countries of origin – contributing to the explosive spread of crime in the region.
The FBI recognized the gang was a growing threat in the early 2000s, under the Bush administration, and in 2004 created a task force "to investigate this violent international street gang," according to the FBI. In 2008 the FBI said it had expanded to at least 42 states and Washington, DC, according to Agence France Presse.
Speaking before a meeting of the organized crime and drug enforcement task force, Attorney General Jeff Sessions signaled out the street gang on the heels of a quadruple homicide last week in Long Island, New York, which law enforcement believe is the work of MS-13
"Transnational criminal organizations like MS-13 represent one of the gravest threats to American safety," Sessions said on Tuesday, according to AP. "These organizations enrich themselves by pedaling poison in our communities, trafficking children for sexual exploitation, and inflicting horrific violence in the communities where they operate."
Sessions was discussing the implementation of Trump's executive order on February 9 that will seeks to increase coordination among different agencies relating to international criminal organizations. Sessions blamed Sanctuary cities for harboring criminal aliens which "only helps violent gangs like MS-13.
"Sanctuary cities are aiding these cartels to refill these ranks and putting innocent life – including the live of countless law-abiding immigrants – in danger," said Sessions.
Sessions too, sought to blame the Obama administration for its "open border and years of lax immigration enforcement" and the rise of MS-13.
The AP reported "more than 21,000 immigrants in the US illegally have been arrested since President Donald Trump took office in January, compared to about 16,000 people during the same time last year."
About a quarter of those arrests were immigrants who had no criminal history, according to Immigration and Customs Enforcement.
Via RT. This piece was reprinted by RINF Alternative News with permission or license.