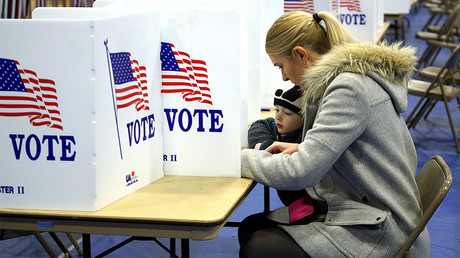 A chaotic contest for the House of Representatives seat in Georgia's 6th congressional district, vacated by Tom Price's Cabinet appointment, has Democrats hoping to make President Donald Trump "furious" by winning the traditionally Republican jurisdiction.
Seventeen Republicans and one Democrat are vying for the seat that opened up when Price was confirmed as secretary of Health and Human Services on February 10. The divided field could result in an upset victory by Jon Ossoff, a 30-year-old former congressional staffer who ran on the slogan "Make Trump Furious."
"We have an amazing chance here, an extraordinary moment for Georgia," Ossoff told his campaign staff on Monday.
Trump fired off a series of tweets on Monday night and Tuesday morning, calling Ossoff a "super Liberal Democrat" who is "VERY weak on crime and illegal immigration, bad for jobs and wants higher taxes." He urged Republicans to turn out at the polls and force a run-off.
The super Liberal Democrat in the Georgia Congressioal race tomorrow wants to protect criminals, allow illegal immigration and raise taxes!

— Donald J. Trump (@realDonaldTrump) April 17, 2017
With eleven Republican candidates running in Georgia (on Tuesday) for Congress, a runoff will be a win. Vote "R" for lower taxes & safety!

— Donald J. Trump (@realDonaldTrump) April 18, 2017
Democrat Jon Ossoff would be a disaster in Congress. VERY weak on crime and illegal immigration, bad for jobs and wants higher taxes. Say NO

— Donald J. Trump (@realDonaldTrump) April 18, 2017
If none of the candidates win over 50 percent of the vote, the top two will advance to the run-off in June. Among the strongest Republican contenders for the seat are former Georgia Secretary of State Karen Handel and local councilman and Trump supporter Bob Gray.
Georgia's 6th has been a solid Republican district since 1979, and held for two decades by Newt Gingrich, who was Speaker of the House during Bill Clinton's second term and one of the few mainstream Republicans who backed Trump's presidential bid early on. During the 2016 primaries, the district favored Marco Rubio, however.
Democrats, who are treating every special election as a chance to demonstrate opposition to Trump, also hoped to capture the Kansas seat vacated by Rep. Mike Pompeo when he took over the CIA. However, in last Tuesday's special election, GOP candidate Ron Estes successfully defeated Democrat James Thompson, despite a lackluster campaign.
One major difference, however, is that the Democratic Party gave little support to Thompson, while lavishing $8.3 million in campaign funds on Ossoff, who lives just outside the district he aims to represent.
"To be honest with you, I'm not particularly happy about the outside influence coming in and trying to sway this," Joe Gebbia, city councilman in the Atlanta suburb of Brookhaven, told National Review. "I interpret that as the outside Democratic party trying to buy a seat here."
Casting a shadow over the election was Friday's theft of four computers used by poll workers to check in voters and verify ballots. The four ExpressPoll machines were stolen from a Cobb County precinct manager's car when he stopped at a grocery store, WSB-TV reported.
"It is unacceptable that the Cobb County Elections Office waited two days to notify my office of this theft," Georgia Secretary of State Brian Kemp said in a statement. "We have opened an investigation, and we are taking steps to ensure that it has no effect on the election tomorrow. I am confident that the results will not be compromised."
Of some 50,000 early voting ballots, there were 19,479 Republicans and 16,093 Democrats, according to a CBS news estimate.
Via RT. This piece was reprinted by RINF Alternative News with permission or license.