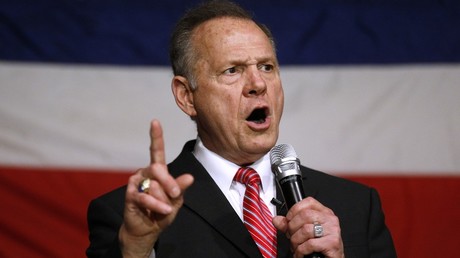 Republican candidate Roy Moore is refusing to concede defeat following his loss to Democrat rival Doug Jones in the race for the vacant Senate seat in Alabama.
Moore has reportedly set up an 'election integrity fund' to investigate if voter fraud contributed to his loss. 
The former state supreme court judge has refused to recognize the defeat which came by a margin of just over 20,000 votes, less than two percent of the overall total. Despite his campaign being rocked by multiple allegations of sexual misconduct, Moore had been favorite to gain the seat held by the Republicans for 25 years.
Last week, Jones claimed a seemingly unlikely victory, with US President Donald Trump even taking to Twitter to congratulate him on his "razor thin" victory. However, Moore has now sent an email to supporters declaring that the "battle is not over." According to the Associate Press, the email includes a call for donations to a so-called election integrity fund. It's thought the money will be used to scrutinize voting patterns in the Alabama state election.
READ MORE: Roy Moore suffers shock upset in Alabama Senate race
Reacting to news of Moore's fundraising for a voter fraud investigation, Jones told CNN's State of the Union that his rival should "move on."
"Alabama has spoken," he said. "It was a close election, there's no question about that. But elections can be close sometimes. Now is the time to heal and move on to the next thing. The election should be certified in a week or so, and I'll be ready to go regardless of whether he concedes or not."
In a statement released immediately after the defeat, Moore thanked those who supported him during the "arduous" campaign but unusually did not concede defeat in the race. He said military and provisional ballots had yet to be counted. He also stated that the election was tainted by outside actors, a claim he did not expand on.
"Immorality sweeps over our land. Even our political process has been affected with baseless and false allegations which have become more relevant than the true issues which affect our country," he said. "This election was tainted by over $50 million from outside groups who want to retain power and their own corrupt ideology."
Via RT. This piece was reprinted by RINF Alternative News with permission or license.