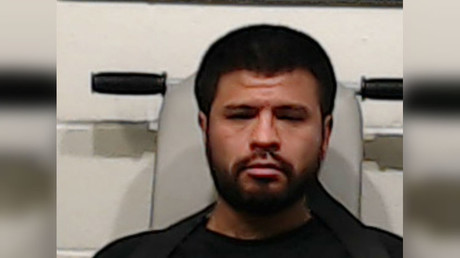 The moment a Texas inmate attempted to escape from a moving police cruiser by clambering onto its roof has been captured on camera. Taylor County Sheriff's Office said the man also threatened suicide during the incident.
Footage has appeared online of Martin Estrada smashing a police car window before climbing on top of the vehicle. The events were captured by a motorist on Highway 277 in Archer County.  
In the video, eyewitnesses Jason and Jennifer Mustain can be heard fearing that the escaped prisoner might have a gun.
Police say the 31 year old, who has a rap sheet for theft and assault dating back to 2006, was being transported from a secure facility in Wichita Falls to the city of Abilene when he launched the daring escape on Wednesday.
According to authorities, Estrada was wanted in Abilene on charges of aggravated robbery, evading arrest and methamphetamine possession. When an officer from the city went to pick up Estrada from Red River County Jail, the inmate became violent and had to be restrained with leg irons as well as handcuffs.  
READ MORE: Rampaging tractor leads Denver police on slow-speed pursuit (VIDEO, PHOTO)
However, that just appears to have been the beginning of the challenging situation for authorities, with Taylor County Sheriff's Office recounting in a statement how, whilst being driven on the 150 mile journey, Estrada managed to "free one wrist from his handcuffs" and use it to shatter the rear window of the cop car.
He then scrambled out and on top of the moving police car, and "threatened suicide unless the officer stopped the car,"Taylor County police said. "The deputy made the determination to not stop the vehicle until Wichita County Officers arrived to assist."
The inmate attempted to flee the scene but was eventually apprehended by police with a Taser.
Like this story? Share it with a friend!
Via RT. This piece was reprinted by RINF Alternative News with permission or license.