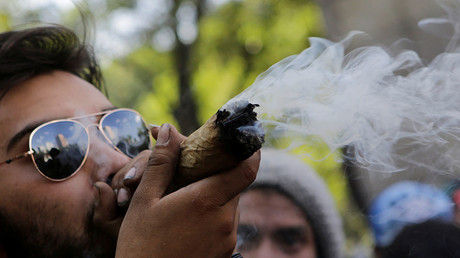 Colorado's capital city of Denver smells a lot like an "art teacher's office" lately, thanks to the legalization of cannabis across the state.
Local lawmakers passed new regulations this week to curb the lingering odors – and air pollution – of 300 commercial growing facilities in the Mile High city, which will also apply to a number of other industries including pet food and asphalt shingle manufacturing, as well as sewage treatment facilities.
Since the state legalized recreational marijuana in 2014, the Department of Environmental Health (DEH) has received around 100 formal complaints per year, most of which emanated from Denver's northside.
Growers will have to submit to odor control regulations, which to date only half of the operations have in place.
"I'm confident that odors will be minimized once everybody is up and running with their plans," DEH spokesman Gregg Thomas told CBS.
"I would caution people to be realistic," Thomas said, however. "It doesn't mean that there will be zero odors."
The complaints process has also been altered with the time period extended from 12 hours to 30 days – and a minimum of five complaints needed to trigger a DEH inspection.
"It's partly a brave new world we are entering into," Thomas said.
Not everyone is happy with the new laws though with some marijuana growers concerned about the expense incurred to install odor-controlling equipment, according to The Denver Post.
When the final details of the plan are hammered out, they will then be sent to the Colorado Department of Health and Environment and are expected to take full effect by the end of 2016.
Legalization has been a boost to the state's finances with total revenue from taxes, licenses, and fees increasing by 77 percent from $76,152,468 in 2014 to $135,100,465 in 2015.
Via RT. This piece was reprinted by RINF Alternative News with permission or license.