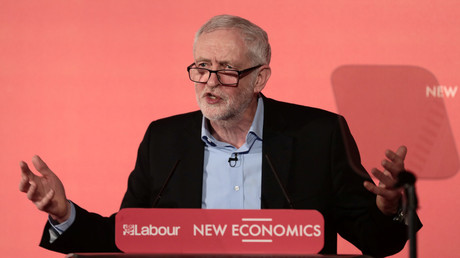 Jeremy Corbyn is being urged by his supporters to sue a Conservative MP who tweeted that he sold "British secrets to communist spies."
Tory MP for Mansfield, Ben Bradley, is being attacked on Twitter by supporters of the Labour leader, who have accused him of making libelous accusations about Corbyn.
The Labour leader has been at the centre of a media storm over suggestions that he worked for Czechoslovakian spies, posing as diplomats during the Cold War – and even hosted several meetings in Parliament. Corbyn's office has denied that he ever knowingly met with a spy.
Questions were asked by the national media, but Bradley outright accused him of selling his country down the river. The accusations have prompted Guardian columnist Owen Jones to call on Corbyn to take legal action against the MP.
The row started when Bradley tweeted support for Conservative Parliamentary Officer Chloe Wilson, who had engaged with Jones in a Twitter spat earlier.
Far-right Watch tweeted Bradley, condemning his support for Wilson, who was accused of laughing at homophobic abuse directed at Jones.
Bradley tweeted in response – and all hell broke loose.
If someone had asked me this morning what Tory MP I'd absolutely love to see get sued for chatting absolute guff about Corbyn online – it definitely would've been Ben Bradley

— Matt Turner (@MattTurner4L) February 19, 2018
I think Vasectomy man Ben Bradley should be expecting a visit from Jeremy's Lawyers pretty soon. This is straight out Libel and Slander. https://t.co/ZmZlCEZehm

— David Clarke (@david_clarke91) February 19, 2018
This is not the first time Bradley and Jones have clashed. Jones is backing "unseat" campaigns against Tories clinging to their constituencies. The pair's row comes just days before Jones' campaign makes its way to Bradley's Mansfield.
READ MORE: Corbyn's Communist spy links? Labour leader slams 'ridiculous smear' over Cold War meetings
"Pretty straightforward. The rampant Tory frothing on my timeline – including gratuitous homophobic abuse – just shows they are utterly terrified about losing dozens of marginal seats. Join me in Mansfield on 24th February to #Unseat Ben Bradley," Jones wrote on Twitter.
Corbyn's office has strenuously denied claims made by The Sun that he worked with spies in the 80s.
Jan Sarkocy, a former Czech spy, claimed that he was the MP's handler during the 1980s for the country's communist secret service, the Statni Bezpecnost (StB), according to reports.
If you like this story, share it with a friend!
Via RT. This piece was reprinted by RINF Alternative News with permission or license.