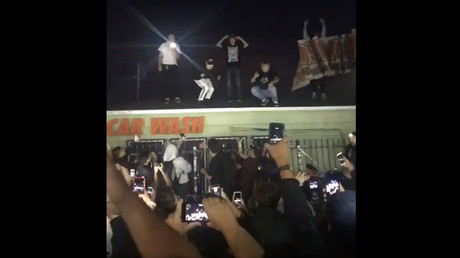 Los Angeles police fired rubber bullets and tear gas to disperse fans of the slain rapper XXXtentacion, who had gathered for a memorial vigil in central LA.
Several hundred fans, carrying candles and cell phone lights, gathered on Melrose Avenue Tuesday night to pay their final respects to the 20-year-old rapper, gunned down in an apparent robbery in Florida on Monday.
According to local media, the crowd soon turned rowdy, climbing on to shop rooftops and throwing rocks at police. Cops, dressed in riot gear, responded with tear gas, rubber bullets, and pepper spray, dispersing the crowd with no reported injuries or arrests.
The rapper, whose real name was Jahseh Onfroy, was shot as he left a motorcycle dealership in Deerfield Beach, Florida, on Monday. Police are currently searching for the suspects, two men in a dark-colored SUV, who fled the scene. Officials are offering a reward of up to $3,000 for any information that leads to an arrest.
Tributes flowed in after Onfroy's death, with Kanye West thanking him for his inspiration, and Brooklyn MC VI Seconds saying "No one deserves this man."
Where there's life there's hope and XXXTENTACION was really bettering himself and his fans with his turn to positivity only to have it cut short. No one deserves this man. Prayers to his loved ones and those heavily affected. Rest In Peace young king.

— VI Seconds (@visecs) June 18, 2018
Others in the hip-hop community were less gushing in their tributes. At the time of his death, Onfroy had been awaiting trial for a litany of criminal offenses, including domestic battery by strangulation, false imprisonment, and aggravated battery of a pregnant woman.
According to Onfroy's ex-girlfriend, Geneva Ayala, Onfroy was a controlling and jealous young man. In her court testimony, Ayala described how Onfroy threatened to kill her "literally like every day," threatened to rape her with a barbecue fork and cut out her tongue, chained her up in their North Miami home, and beat her so badly that she required facial reconstructive surgery, while she was pregnant with his child.
Onfroy denied the charges. On reddit, hip hop fans discussed his checkered past in blunt terms.
"He was a piece of s**t," read one comment from a user called zachwilson23. "I know speaking ill of the dead is taboo and all that, but at some point you gotta be real and admit that despite his fame and subjective musical talent, he was a pretty shady and trashy person."
"I didn't wish him such a way to go, but after reading the shit he did, it's hard to feel sorry for him," read another.
Part of a glut of 'soundcloud rappers', Onfroy rose to fame after his debut song 'Look at Me' went viral on social media in 2016. The song reached number 34 in the Billboard Hot 100 charts. In March, his new album '?' entered the charts at number one, and the single 'Sad!' reached number seven in the Hot 100 chart, according to Billboard. Last year, he reportedly won a distribution agreement worth an estimated $6 million, according to Variety.
If you like this story, share it with a friend!
Via RT. This piece was reprinted by RINF Alternative News with permission or license.