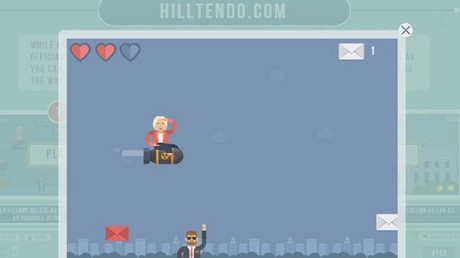 The internet appears largely unimpressed by a meticulous CNN investigation linking Russia to an anti-Hillary Clinton video game that was played an estimated 19,000 times in the run up to the 2016 presidential election.
'Hilltendo' is a primitive Flash-based browser game in which the player helps Hillary Clinton delete classified emails and scoop up money from medieval Arab dictatorships. It was developed and marketed by the St. Petersburg-based Internet Research Agency, the CNN report claims, citing website registration information and evidence gathered on social media.
Although credited with single-handedly deciding the outcome of the 2016 presidential election, the shadowy den of Russian trolls have apparently enjoyed less success in the video game industry. Only an estimated 19,000 people played the goofy game in the weeks before the November election. The hard-hitting CNN investigation attributes the underwhelming figure to the fact that the game was "not playable on smartphones," adding that 'Hilltendo' received little to no exposure on social media.
However, while methodically combing through the game's "thousands of lines of code," CNN's crack team of investigative journalists allegedly found "mentions of 'kek kek,' online slang predominantly used by alt-right trolls to represent laughter."
This is news to millions of Starcraft players in South Korea and World of Warcraft players worldwide, who thought it simply stood for "lol" or laughing out loud.
The internet did some laughing of its own after CNN published its latest "Russian meddling" exclusive on Thursday.
"Yep! Hey CNN, you finally cracked the case! It was this Russian video game that made 66 million Americans vote for Trump! Now can we move on to the illegal spying Obama ordered the FBI to conduct on the Trump campaign?" reads the most-liked comment on CNN's Facebook post about the story. [Trump received around 63 million votes, actually – RT]
"I saw this, downloaded it and it's why I voted for Trump, I'm a russian victim. I'm so sorry guys, I was meddled with, my vote was influenced," jokes another top comment.
Twitter similarly applauded CNN's shoe-leather journalism.
Meanwhile, hardcore gamers and Hillary Clinton roleplayers demanded a sequel to Hilltendo:
CNN is home to America's bravest Russian troll hunters. Last month a CNN correspondent picked through the trash of a St. Petersburg building which once housed the Internet Research Agency, apparently in hopes of finding clues that would shed light on the elusive trolls' secretive eating habits. There was only a slight problem with the daring endeavor – the company had already moved to another building.
Think your friends would be interested? Share this story!
Via RT. This piece was reprinted by RINF Alternative News with permission or license.