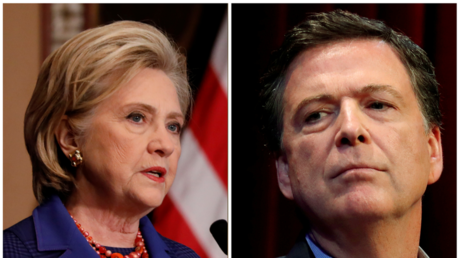 Hillary Clinton could be forgiven for thinking she's unable to escape James Comey's shadow – they each traveled thousands of kilometers from home to find themselves just 700 meters of each other in the Irish capital.
While it's not known if the pair actually had an awkward encounter on the Emerald Isle, the odds of an unexpected meeting in a city the size of Dublin are certainly higher than in New York or DC. The fact that their respective speaking venues were less than one kilometer apart also heightened anticipation of an accidental encounter between the pair.
Clinton was in Dublin on Friday to accept an honorary degree from Trinity College for her "contribution to society." Meanwhile, less than a kilometer away, former FBI Director James Comey was giving a talk to promote his new book, 'A Higher Loyalty.'
The former Democratic nominee has blamed Comey for her failed presidential bid, previously stating she "would have won" but for his notification to US Congress in late October 2016 that he was reopening the federal investigation into her emails.
READ MORE: Clinton blames FBI's Comey & 'Russian WikiLeaks' for scaring off supporters
It doesn't appear Clinton is letting bygones be bygones, however. During a public lecture in Dublin, she reiterated her blaming of Comey, the media, and Russia for losing out to Donald Trump.
Meanwhile, never one to miss a promotional opportunity, Comey told RTE Radio that if he were to run into Clinton while in Dublin, he would encourage her to read his book to better understand his role: "I would ask her if she's had the chance to read that part of my book, just about those decisions, because I honestly don't think you can learn about those decisions and walk away thinking that we were intending to harm her in some way."
READ MORE: Clinton tries to troll Comey, gets butt kicked by WikiLeaks
Think your friends would be interested? Share this story!
Via RT. This piece was reprinted by RINF Alternative News with permission or license.