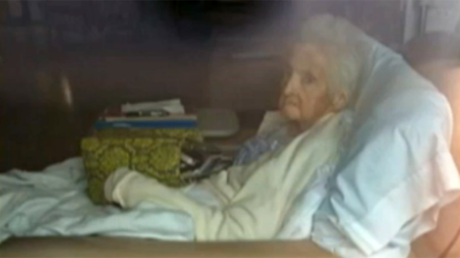 An 86-year-old woman has been rescued from a Massachusetts dialysis clinic after its staff closed the facility for the day, leaving the patient on a dialysis chair. The clinic has apologized, but the family is demanding answers.
Maureen Perry, of Chelmsford, spent several hours locked alone inside the Fresenius Medical Care center after receiving her four-hour dialysis on Saturday. 
The old woman, who is bedridden, has her rehabilitation facility to thank for her rescue. Rehab staff alerted Perry's family that she had not returned from the procedure hours three hours after it finished. 
"It's about 5:15pm and we haven't heard from any place, and your grandmother isn't back yet," Perry's granddaughter, Erica Crosby, told reporters.
Cosby arrived at the center and called 911, reporting her grandmother being locked inside the dialysis center.
"We pulled up to this facility. I get out of the car and she's in there," Crosby told Fox25. "The lights are completely off, the building's locked up, and I'm banging on the window, 'Are you OK? Can you hear me?' And she's shrugging her shoulders." 
Methuen Deputy Fire Chief Scott Sullivan has confirmed that the old woman was "the only one there" when firefighters arrived. They had to use the rapid-entry system to get inside, the Boston Globe reported.
"Evidently she was left on the chair," he added.
Cosby has snapped a picture of Perry still sitting in her dialysis chair. She said she was cold from the air conditioning and thirsty.
"At first, I was enraged, then concerned, and then disgusted," said Crosby. "I couldn't believe it."
An ambulance brought the woman to her home in Wilmington, but the family says that the she was still in shock, while physically fine.
"She's really, really shaken up still," Crosby told Fox 25. "We saw her this morning, and she was just beside herself still, can't wrap her head around what unfolded."
The clinic issued a statement Monday, offering a apology for the incident. However, management abstained from saying that the 86-year old Perry had been forgotten, saying that one of the patients "remained in her dialysis chair at the time."
"We deeply regret what occurred and have spoken with the patient's family. Our patients' care and safety are our top priorities and we have initiated additional processes and safeguards to ensure that an incident such as this does not happen again," the clinic said.
However, Cosby, a nurse herself, is not going to let the situation go.
"I am in healthcare and this is disgusting, absolutely disgusting," Crosby said, according to CBS Boston. "Someone needs to be held accountable for this. This is absolutely not okay."
It remains to be seen whether or not anyone of the clinic's staff will respond for the incident.
Methuen police have reportedly contacted the Department of Elder Affairs, but the agency declined to investigate because it was not a case of neglect or abuse.
Yet, Depart of Public Health got interested in the situation and is now "conducting a thorough investigation," according to Fox25.
Via RT. This piece was reprinted by RINF Alternative News with permission or license.