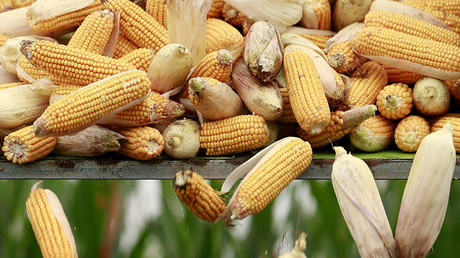 A Chinese man will spend three years in prison for conspiracy to steal trade secrets from DuPont Pioneer and Monsanto. Evidence against him included 1,000 lbs (454 kg) of GMO corn seeds he sent to Beijing to be counterfeited by scientists.
Mo Hailong, 47, was sentenced Wednesday after pleading guilty to conspiring to steal trade secrets. US District Court Judge Stephanie Rose for the Southern District of Iowa ignored pleas to sentence him to community service, opting to give him three years in prison to send a message to Chinese companies, the Des Moines Register reported.
"We need to send a message to China that this kind of criminal behavior is not tolerated in the United States," Rose said.
Mo is not the first person to be accused of trade-secret theft related to genetically modified seeds. He was one of three Chinese men arrested in 2013 for providing illegally obtained seed samples to scientists in China who create their own knock-off versions. Weiqiang Zhang and Wengui Yan were accused of stealing rice seeds from Ventria Bioscience's facility in Kansas, the Associated Press reported.
Even the FBI has expressed concern over the theft of genetically modified seed recipes.
"Agriculture is an emerging trend that we're seeing," Robert Anderson, Jr., assistant director of counterintelligence at the FBI, told the New York Times. "It's pretty clear cut. Before then, the majority of the countries and hostile intelligence services within those countries were stealing the other stuff."
In 2013, Mo was caught kneeling in a cornfield owned by DuPont Pioneer, which grew what is known as an "inbred line" of corn. This kissing-cousin strain of corn compromises the parents of hybrid corn that seed companies sell to farmers and are one of the industry's top secrets, according to NPR.
Mo was a legal resident living in Boca Raton, Florida at the time of his arrest. Evidence gathered showed that he provided over 1,000 lbs (454 kg) of corn seed to the Beijing Dabeinong Technology Group Co, whose CEO is Mo's brother-in-law.
Prosecutors requested that Mo receive a five-year sentence. However, Rose ruled that three years would suffice, in light of Mo being in remission from a rare form of cancer.
Via RT. This piece was reprinted by RINF Alternative News with permission or license.