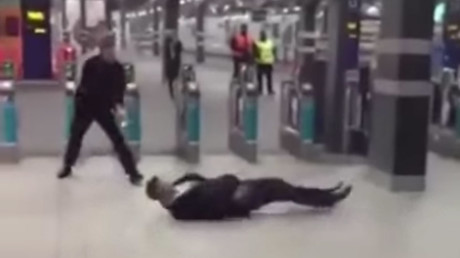 Footage has emerged of a well-dressed man shouting "I'm a f**king legend" before being tased by police in front of a cheering crowd. The man had been strutting around London Bridge station, challenging commuters and station staff to a fight.
The video shows the man, identified as Alan Parker Silver, 34, of Margate, Kent, yelling at commuters, station security and British Transport Police (BTP) in the station foyer. When people laugh at him, he becomes even more aggressive. He pushes one man into a sign, and then starts squaring up to station security in an effort to start a fight, knocking a coffee cup out of another person's hand while doing so.
His outbursts continue: "You're all a bunch of f**king mugs. I'm a f**king legend and I won't f**king have [put up with – Ed.] it." He then puffs his chest out and then once again says: "I'm a f**king legend."
A woman who appeared to know him can be heard saying: "Oh my God, you are so embarrassing you f**king p***k." He can then be seen pushing her out of the way.
Before finally being taken down by police, Silver shouts at commuters: "I'm from Margate, right, and I will kick the f**k out of all of you." His audience cheers as he falls to the ground.
A BTP spokesperson confirmed the man was later convicted of a public order office, the Mirror reports.
Via RT. This piece was reprinted by RINF Alternative News with permission or license.