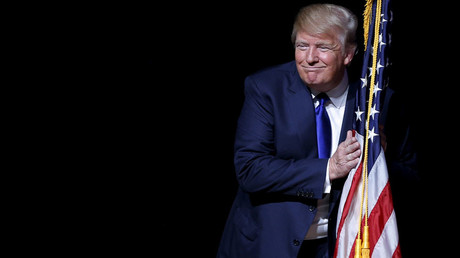 President-elect Donald Trump has taken to Twitter again, blasting the media for speculating about his transition team and cabinet appointments. While the press has described the transition as chaotic and confused, Trump called it a "very organized process."
Trump's team needs to find and hire 4,000 political appointees to fill federal government offices, from cabinet-level positions to White House and agency staff, Reuters reported. Last week, New Jersey Governor Chris Christie was replaced at the helm of the team by Vice President-elect Mike Pence.
Pence has reportedly eliminated all lobbyists from the transition team, according to the Wall Street Journal. Among those ousted were former Michigan congressman Mike Rogers, who handled national security business, and Matthew Freedman, who worked on defense and foreign policy.
"Is there a little confusion in New York? I think there is. I think this is growing pains," Rogers told CNN on Tuesday. Anonymous sources cited by CNN both confirmed and denied infighting among Trump's advisers.
Meanwhile, the New York Times reported that US allies were "scrambling" to get hold of Trump, dialing the Trump Tower in New York. The paper cited a "Western diplomat who spoke on the condition of anonymity to detail private conversations."
Trump fired back on Wednesday morning, calling the "failing New York Times" story "totally wrong on transition." The president-elect also described the process as going "so smoothly." 
He also dismissed the frenzy of media speculation about his possible cabinet picks, saying he was the only one who knew the "finalists," and denied rumors about trying to get security clearances for his children, slamming them as "a typically false news story."
Very organized process taking place as I decide on Cabinet and many other positions. I am the only one who knows who the finalists are!

— Donald J. Trump (@realDonaldTrump) November 16, 2016
I am not trying to get "top level security clearance" for my children. This was a typically false news story.

— Donald J. Trump (@realDonaldTrump) November 16, 2016
Trump said he had spoken to leaders of Russia, the UK, China, Saudi Arabia, Japan, Australia, New Zealand and more, and that the Times was "just upset that they looked like fools in their coverage of me."
On Tuesday, the president-elect and his family ditched the press pool to dine at a New York steakhouse, leaving the reporters to huddle outside. The slight was condemned by White House Correspondents' Association president Jeff Mason, who called it "unacceptable" for the president-elect to travel without the press pool.
A coalition of 11 press groups sent an open letter to Trump on Wednesday, asking him to "preserve longstanding traditions that ensure coverage" of the presidency.
The press pool dates back to the administration of Franklin Delano Roosevelt, and every president since "has treated this important tradition with respect," according to Thomas Burr, president of the National Press Club.
It certainly appears that the president-elect is about to break with that tradition, however. There is a lot of bad blood between the press and Trump, with most US newspapers openly endorsing his opponent Hillary Clinton. Trump made media bias a major talking point on the campaign trail, and bypassed the traditional press by communicating with the public directly, via his Twitter account.
Representative Chris Collins (R-New York), the transition team's congressional liaison, said that Wednesday's tweets were a way for Trump to blow off some steam, as he is under a lot of pressure.
"If this is his way of relaxing, God bless him," Collins told CNN. "You don't want this stuff all bottled up."
Via RT. This piece was reprinted by RINF Alternative News with permission or license.