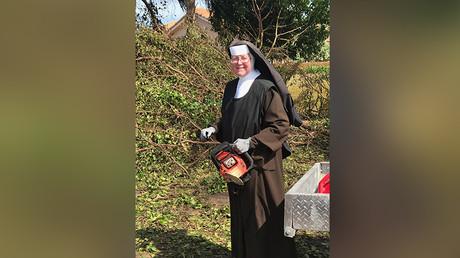 Miami was spared the worst of Hurricane Irma's wrath but trees, power lines and at least three cranes were felled by the ferocious winds. As the clean up operation begins in earnest, one chainsaw-wielding nun is leading by example.
An off-duty police officer in Miami Dade County was surveying the damage in the area Tuesday evening when he happened upon a miraculous sight: Sister Margaret Ann of the local Archbishop Coleman F. Carroll High School in full garb slicing felled trees with a chainsaw.
"There was a need, I had the means, so I wanted to help out," Sister Margaret Ann told CNN Tuesday. "We teach our students: Do what you can to help other people, don't think of yourselves… That's what I wanted to do."
Her amateur tree surgery inspired locals to action and volunteers began clearing the streets alongside Sister Margaret Ann, reports CBS Miami.
"The community will come out and help us. That's what we do," she said. "It's good."
The Federal Emergency Management Agency estimated that Irma destroyed roughly 25 percent of homes on the Florida Keys and a further 65 percent sustained heavy damage reports ABC News.
Via RT. This piece was reprinted by RINF Alternative News with permission or license.