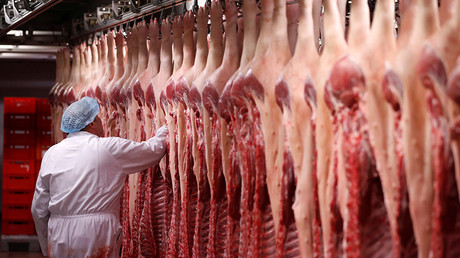 Slaughterhouses in England will be mandatorily fitted with CCTV when new plans to safeguard animal welfare and reassure consumers come into effect, following a public consultation process.
The plans were unveiled on Friday by Environment Secretary Michael Gove as the country seeks to cement its position as a "global leader on animal welfare."  
The proposals will make good on a pledge in the Conservative Party's manifesto for CCTV to be installed in any facility, and in all areas, where live animals are kept, with unrestricted access to recorded footage for official vets.
The proposal relates solely to England as animal welfare policy is devolved.
"We have some of the highest animal welfare standards in the world and the actions I am setting out today will reinforce our status as a global leader," Gove said.
"As we prepare to leave the EU, these measures provide a further demonstration to consumers around the world that our food is produced to the very highest standards," he added.
The government also confirmed that it will raise standards for farm animals and domestic pets by "modernizing statutory animal welfare codes to reflect enhancements in medicines, technology and the latest research and advice from vets."
These codes will remain enshrined in law, and the first to be updated will cover chickens being bred for meat. Welfare codes on a variety of different animals – from laying hens to cats, dogs and horses – will be updated over the next year.
British Veterinary Association President Gudrun Ravetz welcomed the government's announcement.
"Mandatory CCTV in all areas of slaughterhouses will provide an essential tool in fostering a culture of compassion that could help safeguard animal welfare and we are particularly pleased to see a commitment to Official Veterinarians having unrestricted access to footage, which BVA has been calling for.
"Vets' independence and unique qualifications help ensure that the UK will continue to have the highest standards of animal health, welfare and food safety," he said.
Via RT. This piece was reprinted by RINF Alternative News with permission or license.