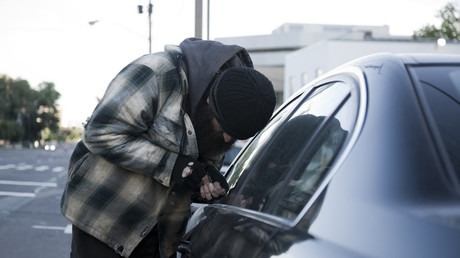 A would-be carjacker was left more than red-faced after he was caught on camera being dragged along the road by an SUV in Kent, Washington.
The startling footage was captured by Sukk Chahal and shared on Twitter by her nephew Sahr Moiwo. It shows a man hanging onto the passenger door handle of a car as it drives down the road, his legs scraping off the road.
The car then comes to a stop, perhaps to give the carjacker the chance to let go. However, the man pulls himself to his feet, with his pants around his ankles and his underwear around his knees, exposing his behind to the women filming in the car.
The man tries to open the car door but it starts to drive away again. He holds on and is dragged again, but this time with his front scraping off the road. Ouch!
Yes, several have already asked. Suspect attempted to carjack several cars and was arrested

— Kent Police (@kentpd) August 27, 2017
Kent police confirmed the man was a serial attempted carjacker.
According to KIRO, he was arrested and treated for his injuries in hospital.
Via RT. This piece was reprinted by RINF Alternative News with permission or license.